Burlesque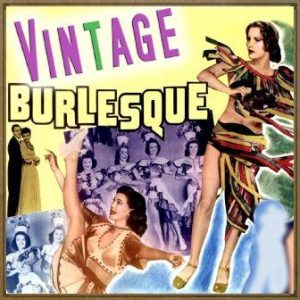 Label: Burlesque
Release date: 2013-07-25
Tracks:
Armstrong Blues


Willy Best

There'll Be Some Changes Made


Higgins Overstreet

Music, Maestro, Please! / At Sundown / My Heart Belongs to Daddy
Ernie Heckscher

Ah!, les femmes (Slow Fox)


Léo Clarens

Headin' North


Willy Albimoor

Bye, Bye Blackbird


Slim Cooper

Someday Sweetheart


Peanuts Hucko

My Blue Heaven


Georgie Auld

Cheek to Cheek


Irving Berlin

I Guess I'll Have to Dream the Rest
Les Brown

Smack Dab in the Middle


Jerry Fileding

My Heart Belongs to Daddy


Stéphane Grappelly

La vie en rose


Charly Tabor
El Burlesque es un estilo de arte escénico que se vale de la parodia y la exageración de rasgos para ridiculizar un tema, glorificando lo socialmente inaceptable o denigrando lo socialmente dignificado.
El Burlesque surge como un estilo literario enfocado a la ridiculización de corrientes literarias y los ejemplares literarios socialmente glorificados.
El Burlesque dramático surge como una evolución del burlesque literario que consistió en su adaptación a la obra teatral durante la primera mitad del siglo XIX. El burlesque americano surge como una variante dramática del BurlesqueEuropeo de la Era Victoriana.
El género Burlesque resurge en décadas siguientes, presentando un contenido más erótico en el que se presentan actos artísticos y performances variados que normalmente involucran un gran contenido sexual o erótico, pero ahora denominado Neo-Burlesque
El término Burlesque también se utiliza para describir trabajos de operetas musicales del siglo XIX y el siglo XX que expresaban un ánimo alegre con notas irónicas que a veces son contrastantes con la seriedad, de manera similar al concepto en la literatura; frecuentemente las piezas deBurlesque se presentan en dos ánimos que cambian repentinamente, dando al escucha una sensación de ironía. La obra musical de burlesque más conocida es elBurleske en Re menor por Richard Strauss, compuesto en 1885.
El ragtime es frecuentemente comparado con el burlesque, ya que ambos comparten ciertas simlitudes (tempo rápido y matiz allegro). El ragtime, el jazz y sus subgéneros eran utilizados en shows presentados en casas de burlesque para acompañar a los cantantes que normalmente se presentaban.
El Burlesque americano es una variación estadounidense del burlesque dramático que en sus principios, alrededor de 1865, fue idéntico al género de burlesque presentado en Europa de la Era Victoriana.
En décadas siguientes elBurlesque americano toma características de otros espectáculos de la época como el vodevil. En el periodo de la Guerra de Secesión se desarrollan un gran número de espectáculos viajeros y establecidos como los dime museum,nickelodeons, shows de minstrel, circos,freak shows,medecine shows, espectáculos de vaudeville, cabarets, ferias y music saloons. En el siglo XIX los negocios enfocados al entretenimiento se convirtieron en el show business del siglo XIX. La variante americana delBurlesque toma diversos elementos delvaudeville americano y el cabaret
Burlesque 

Belle Epoque Cabaret Jazz Recopilaciones Vintage
Favorites
Your favorites will be here.
Género