BUDDY MORROW
Biographie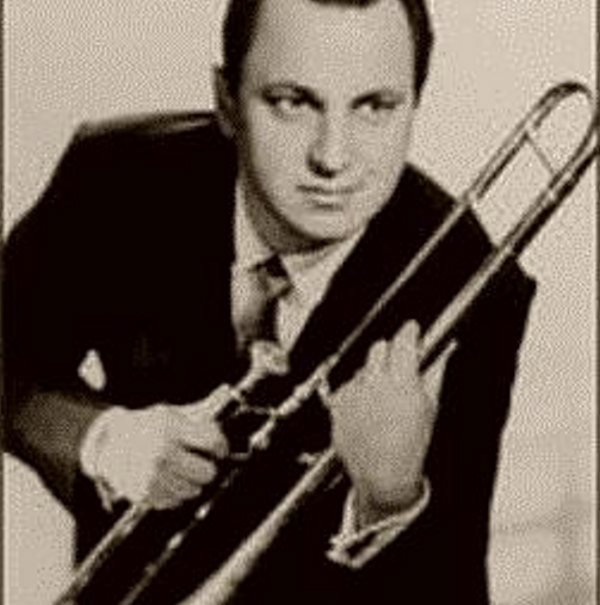 Buddy Morrow
(born Muni Zudekoff, aka Moe Zudekoff; February 8, 1919, New Haven, Connecticut – September 27, 2010) was an American trombonist and bandleader. He is known for his mastery of the upper range which is evident on records such as "The Golden Trombone," as well as his ballad playing.
Buddy Morrow
 was once a member of The Tonight Show Band. His early 1950s records such as "Rose, Rose, I Love You" and "Night Train" appeared in the US Billboard charts. "Night Train" reached No. 23 in the UK Singles Chart in March 1953. In 1959 and 1960 Morrow's Orchestra released two albums of American television theme songs; Impact and Double Impact respectively.
In 2009,
Buddy Morrow
 was awarded the International Trombone Association's Lifetime Achievement Award, an award that is given to a person who has significantly changed trombone playing around the world.
He was most recently the leader of the Tommy Dorsey Orchestra, through September 24, 2010. Morrow died in the morning on September 27, 2010.
On a scholarship, at age 16, Buddy Morrow studied trombone with Ernest Horatio Clarke (1865–1947) at Juilliard (known then as the Institute of Musical Art) from October to December 1936.
He then moved on to big bands, first Eddie Duchin, then Vincent Lopez. He eventually graduated to swing bands, first with Artie Shaw. He first became Muni Morrow, then Buddy Morrow, when he joined the Tommy Dorsey trombone section in 1938. In 1939, he performed with Paul Whiteman's Concert Orchestra for their Decca/Brunswick recording of Gershwin's Concerto in F.
In 1940, Buddy Morrow joined his former Shaw band-mate Tony Pastor and his band for a little while, but this was only a short detour on his way to replacing Ray Conniff in the Bob Crosby band. Shortly after, he joined the US Navy, during which, we recorded with Billy Butterfield leading a 10-piece band with three trombones — all accompanying Red McKenzie singing four arrangements, including "Sweet Lorraine" and "It's the talk of the Town."
After demobilization, Buddy Morrow joined Jimmy Dorsey's band, then went into radio freelancing as a studio musician. He began conducting odd sessions, which introduced him to bandleadlng. RCA Victor sponsored him as director of his own band in 1951. The band's first hit — "Night Train" by Jimmy Forrest — was a cross-over into rhythm and blues.