Art Decó Vocal Jazz of the 30's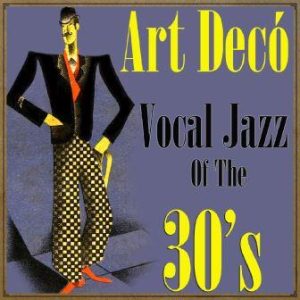 Add to favorites
Title: Art Decó Vocal Jazz of the 30's
Artist: Various Artists
Date: 2013-06-03
ÁLBUMES EN FORMATO CD Belle Epoque CD'S RAGTIME - DIXIELAND CD'S VOCAL JAZZ Recopilaciones Vintage
Songs:
01 My Blue Heaven


Artist: Betty Owens

Songwriter: W. Donaldson, G. Whiting

02 Painting the Clouds with Sunshine
Artist: Nick Lucas

Songwriter: Joe Burke, Al Dubin

03 I Cried for You
Artist: Billie Holiday

Songwriter: Freed, Armheim, Lyman

06 Moonlight Bay
Artist: Gene Kelly

Songwriter: Wenrich, Madden

07 Am I Blue
Artist: Ethel Waters

Songwriter: Grant Clarke, Harry Akst

08 Five Foot Two, Eyes of Blue
Artist: Somethin' Smith

Songwriter: Wenrich, Madden

09 I Didn't Like It the First Time


Artist: Julia Lee

Songwriter:

10 After You've Gone
Artist: Jack Teagarden

Songwriter: Creamer, Johnson

11 Cheerful Little Earful
Artist: Enoch Light

Songwriter: Warren, Gershwin, Rose

12 Just Like a Melody out of the Sky
Artist: Nick Lucas

Songwriter: Walter Donaldson

13 Stormy Weather
Artist: Kay Starr

Songwriter: Arlen, Koehler

15 The Object of My Affection
Artist: Enoch Light

Songwriter: P. Tomlin, C. Poe, J. Grier

17 Bye Bye Blackbird
Artist: Nick Lucas

Songwriter: Mort Dixon, Ray Henderson

18 Black Bottom
Artist: Bob Crosby

Songwriter: De Sylva, Brown

20 The Sheik of Araby
Artist: Jack Teagarden

Songwriter: Snyder, Smith, Wheeler
El art déco (también art decó o incluso art deco) fue un movimiento de diseño popular a partir de 1920 hasta 1939 (cuya influencia se extiende hasta la década de 1950 en algunos países) que influyó las artes decorativastales como arquitectura, diseño interior, y diseño gráfico e industrial, también a las artes visuales tales como la moda, pintura, grabado, escultura y cinematografía.
Después de la Exposición Universal de 1900 de París, varios artistas franceses (Hector Guimard, Eugène Grasset, Raoul Lachenal, Paul Follot,Maurice Dufrene y Emile Decour) formaron un colectivo formal dedicado a las artes decorativas de vanguardia.
En 1925 organizaron la Exposition Internationale des Arts Décoratifs et Industriels Modernes (Exposición Internacional de Artes Decorativas e Industriales Modernas) en París, y se llamaron a sí mismos los modernos; en realidad, el término art déco se acuñó en la retrospectiva titulada "Les Années 25", llevada a cabo en París en el Musée des Arts Décoratifs (Museo de Artes Decorativas) del 3 de marzo al 16 de mayo de 1966; el término es por lo tanto un apócope de la palabra francesa décoratif. En inglés suele suprimirse la tilde y se escribe "deco".
En español, la RAE lo ha normalizado como art déco, con la tilde en la «e».

ÁLBUMES EN FORMATO CD Belle Epoque CD'S RAGTIME - DIXIELAND CD'S VOCAL JAZZ Recopilaciones Vintage
Favorites
Your favorites will be here.
Apple
Amazon
Deezer
Género