BIX BEIDERBECKE
Biographie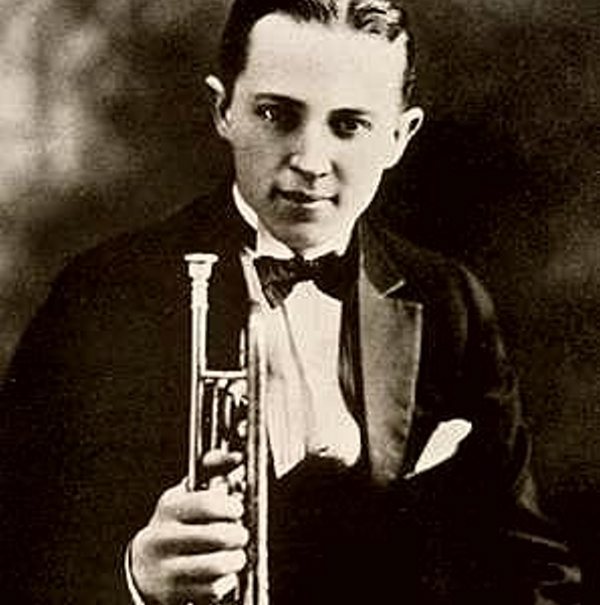 Bix Beiderbecke, born in Davenport, Iowa, on March 10th, 1903 came to symbolize the archtype of the Roaring Twenties. The son of an amateur pianist and a middle class independent merchant, he was born into a cultured and very musical family. By the age of three, Bix Beiderbecke was able to play the piano, and by the time he reached fourteen or fifteen, the young man aquired a cornet, whose play he mastered by accompanying popular recordings, especially those of the Original Dixieland Jazz Band.
His first exposure to jazz was hearing his older brother's 1917 records of the Original Dixieland Jazz Band. Right away, he fell in love with this music and he would always sit in with the local bands after school. It was the family, however disapproved of the legend's vehement interest in Jazz music, and in hopes of dissuading his endeavors sent him to Lake Forest Academy in 1921. The extreme proximity of Chicago, with its many opportunities of hearing and performing Jazz, however, had the adverse affect, causing frequent truancy and eventually expulsion from school. After several months of work for his father, back in Davenport, Bix Beiderbecke turned his life to a permanent career in music in 1922.
In 1922, after being expelled from Lake Forest Academy and a brief period a home, Bix Beiderbecke began his professional career in music. He worked around the Chicago area and on the Lake Michigan excursion boats for a while. During this period, Bix Beiderbecke kept traveling around to hear the New Orleans Rhythm Kings, King Oliver, and Louis Armstrong, and he became known mostly through his playing and legendary recordings with the Chicago based Wolverines in 1924.
It is important to mention that Bix Beiderbecke never had any kind of formal training in playing cornet. He bought a used cornet when he was a teenager and he taught himself to play. As a result of self teaching, Bix used a lot of alternate fingerings that other musicians wouldn't use. Bix Beiderbecke and the Wolverines moved to New York in 1924 and they played briefly at the Cinderella Ballroom. As Bix gained more and more attention from the public, he moved on to join Jean Goldkette's minor league band in Detroit.
A year after Bix Beiderbecke moved to Detroit, he met his companion, the saxophone pioneer Frank Trumbauer. Frank Trumbauer hired Bix in 1925 for his band and later on, both of them joined the Jean Goldkette's band in New York until 1927. During this period, Beiderbecke and Trumbauer were known as "Bix and Tram" and recorded several albums together.
After a short stay with Adrian Rollini's big band in New York, Bix joined Paul Whiteman and toured nationally to promote jazz to the public. In the meantime however, both Bix's declining health and consitent alcoholism undermined his play. He was forced to take a leave in September 1929, in order to recover from his alcholism and partly because of the recent Stock Market crash and its direct influence on the Jazz scene, Bix Beiderbecke would never return. Taking odd jobs here and there in order to support himself, he worked with the Dorseys, the Casa Loma Orchestra, and Benny Goodman. His last days, unfortunately however, were very bleak.
Bix Beiderbecke drank too much, barely ate, rarely slept, and was constantly depressed over lack of work and money. Eventually a persistent cold developed into lombar pneumonia. Having neither strength nor will to fight off the effects of its draining infection, Bix passed away on August 6th, 1931 in his little New York apartment.
Fuente: http://library.thinkquest.org