The Three Suns With String Orchestra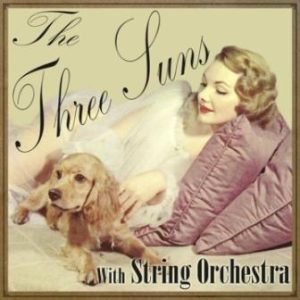 Label: The Three Suns With String Orchestra
Release date: 2015-04-22
The Three Suns
The Three Suns se formó en 1939 por Al Nevins ( guitarra ) y Nevins Morty ( acordeón ) y Artie Dunn ( voces , órgano electrónico ). Más tarde firmó con RCA Victor .
En 1944, su primer disco de éxito fue "Twilight Time ", escrita por la banda junto con Buck Ram . "Twilight Time" vendió más de cuatro millones de copias y fue galardonado con un disco de oro.
El siguiente éxito de The Three Suns "Peg o' My Heart", que fueuno de los discos más vendidos de 1947 en los Estados Unidos.
The Three Suns apareció en Alfred Hitchcock's Rope  (1948) y en la película  Two Gals and a Guy (1951).
The Three Suns sufrió varios cambios de formación en la década de 1950, y se separó brevemente a mitad de la década antes de que Dunn resucitase  el nombre con una nueva formación.
La popularidad de The Three Suns se desvaneció y su significación histórica quedó en el olvido, esencialmente como consecuencia del rock and roll , pero el interés en el conjunto fue renovado en la década de los 90 por los fans de la música lounge y exotica .