Messin Around, Memphis Slim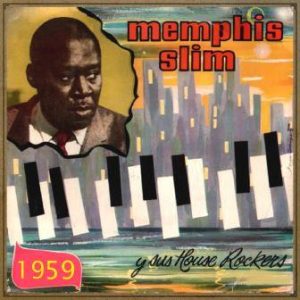 Label: Messin Around
Release date: 2013-12-12
Memphis Slim. El 3 de septiembre de 1915 nació en Memphis (Tennessee) el cantante y pianista de blues Memphis Slim. Nacido John Len Chatman, se aficionó a la música a través de su padre, que tocaba la guitarra y cantaba, además de regentar varios 'juke joints', establecimientos en los que se servían bebidas, se podía bailar, comer, jugar y apostar, habituales en los cruces de carreteras del Sureste de EEUU.
Memphis Slim comenzó a principios de los años treinta tocando en honky-tonks y salas de baile de Arkansas y Missouri. En 1939 emigró a Chicago donde actuó junto a Big Bill Broonzy. Al año siguiente Memphis Slim ya estaba grabando sus propios discos, de los que registró más de 500 a lo largo de su carrera. Una de sus grabaciones, 'Nobody loves me' (1949) (renombrada como 'Every day I have the blues') ha recibido versiones de Eric Clapton, B.B.King, Ray Charles, Jimi Hendrix, Carlos Santana, Ella Fitzgerald y Natalie Cole, entre otros.
En 1959 Memphis Slim grabó el álbum 'Memphis Slim at the Gate of the Horn', con Matt 'Guitar' Murphy en su grupo, que contiene varios de sus temas más famosos como 'Mother earth', 'Got to find my baby', 'Rockin' the blues', 'Steppin' out' y 'Slim's blues'.
Cuando se produjo el revival folk-blues a principios de los sesenta, Memphis Slim tuvo -como muchos otros bluesmen de principios del siglo XX- un resurgimiento que le llevó a hacer giras por Europa. En una de ellas decidió quedarse a vivir en Francia donde residió como un rey (para los standards de un bluesman norteamericano) hasta su muerte a los 72 años por insuficiencia renal en febrero de 1988.
En 1970, aprovechando que Buddy Guy acompañaba a los Stones en su gira europea, Memphis Slim grabó con él el álbum 'Southside Reunion', publicado dos años más tarde por Warner Bros.