Lillian Roth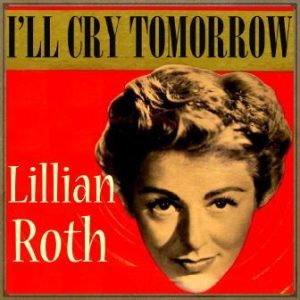 Label: I'll Cry Tomorrow
Release date: 2012-09-10
Lillian Roth (13 de diciembre de 1910 — 12 de mayo de 1980) fue una actriz y cantante estadounidense.
Nacida en Boston, Massachusetts, Lillian Roth tenía únicamente seis años de edad cuando su madre la llevó a Educational Pictures, donde pasó a ser la imagen de la compañía, simbolizada por una estatua viviente sosteniendo la lámpara del conocimiento.
Al año siguiente Lillian Roth debutó como actriz teatral en el circuito de Broadway actuando en The Inner Man. Su primera actuación cinematográfica llegó en 1918 con Pershing's Crusaders. Junto a su hermana Ann actuaban de manera itinerante bajo el nombre de "Lillian Roth and Co," y a veces las dos eran llamadas "The Roth Kids".
Uno de los momentos más emocionantes de ambas hermanas llegó cuando conocieron al Presidente de los Estados Unidos Woodrow Wilson, cuando éste llevó a las dos a dar la vuelta a la manzana en su coche tras asistir al número de vodevil de ambas.
Lillian Roth entró en la Clark School of Concentration en los inicios de la década de 1920, actuó en Artists and Models en 1923 y trabajó en Revels con Frank Fay.
En 1927, cuando Lillian Roth tenía 17 años de edad, trabajó en la primera de tres Earl Carroll Vanities, a las cuales pronto siguieron las Midnight Frolics, una producción de Florenz Ziegfeld.
Pronto la joven actriz firmó un contrato de siete años con Paramount Pictures.
Entre los filmes que rodó para Paramount figuran El desfile del amor (1929, con Maurice Chevalier), The Vagabond King (1930), Paramount on Parade (1930), Honey (1930, en el cual cantaba "Sing, You Sinners"), Madam Satan (1930, de Cecil B. DeMille, con Reginald Denny y Kay Johnson, Sea Legs (con Jack Oakie), y la segunda película de los Hermanos Marx, El conflicto de los Marx (1930). Roth hizo para el cine el papel que Ethel Merman había interpretado en la obra teatral Take a Chance, y cantó "Eadie Was a Lady".
Tras dejar Paramount Lillian Roth hizo un papel de reparto en el film carcelario femenino Ladies They Talk About (Warner Brothers, 1933), junto a Barbara Stanwyck.