Guitar Galaxies, George Barnes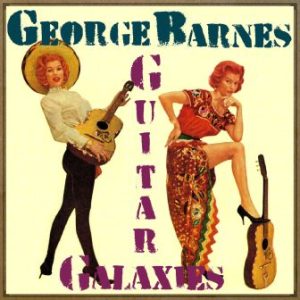 Add to favorites
Title: Guitar Galaxies
Artist: George Barnes
Country: USA
Date: 2011-10-23
George Barnes era uno de los guitarristas más prolíficos y versátiles de los años cincuenta y sesenta. Aunque, básicamente era un hombre de jazz, era un maestro de todos los estilos: blues, country, folk, pop, R & R, R & B.
fGeorge Barnes fue uno de los primeros en grabar con la guitarra eléctrica y Chet Atkins, Les Paul y Charlie Christian le han citado como una fuente de inspiración principal.
A la edad de 14 años, George Barnes ya era un músico profesional y  había formado su propio cuarteto George Barnes. Dos años más tarde grabó sus primeros discos consu propio nombre: "I'm Forever Blowing Bubbles" and "I Can't Believe That You're In Love With Me" para el sello Okeh.
En 1938 George Barnes estaba trabajando para la NBC, como director de orquesta, guitarrista y arreglista. Tras su paso por el ejército durante la Segunda Guerra Mundial, Barnes volvió a su trabajo de estudio y grabó transcripciones de radio con su octeto inusual.
En 1951 George Barnes se trasladó de Chicago a Nueva York, donde de inmediato consiguió un contrato con Decca para grabar sus propios álbumes. George también se reunió con Carl Kress en 1951, el comienzo de una amistad que iba a dar lugar a una  formación aclamada por la crítica. Recorrieron el mundo juntos e hicieron algunas de las mejores grabaciones de dúos de guitarra de la historia.
En este tiempo, George Barnes tenía  la Guild Guitar Company dedicada a construir una guitarra única bajo sus especificaciones. Tras la muerte de Kress en 1965, la  próxima pareja de George iba a ser Bucky Pizzarelli. Como músico de estudio, Barnes ha trabajado con todos, desde Louis Armstrong a Bob Dylan.