JERRY LEE LEWIS
Biographie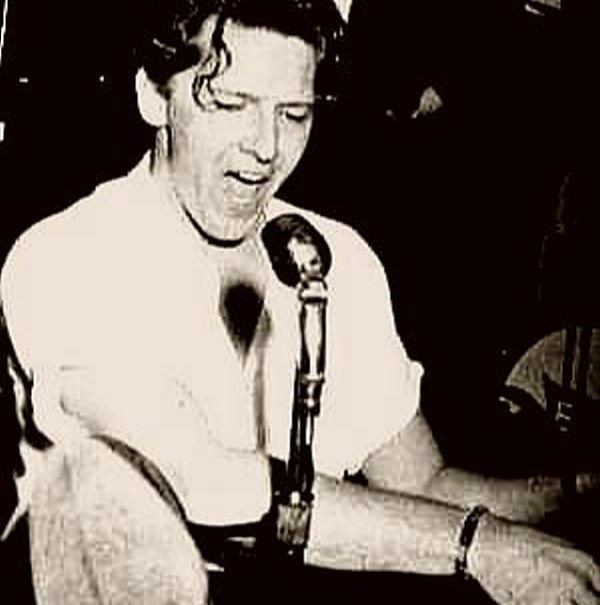 Jerry Lee Lewis was born on September 29, 1935 into a very religious family . His family, though not very wealthy, sold their house when he was a child to get their son a piano. He loved to play piano. He was sent to a religious school, but was soon thrown out shortly thereafter — he did a boogie version of a song about Jesus, something the school could not accept. At 17, he married for the first time, but it only lasted seven months.
He married a second time three weeks before he his divorce from his first wife was final. His second marriage lasted about four years and produced his first child.
In November 1956 he moved in with a cousin, J. W. Brown, in Memphis. They started a band together, with Jerry as singer. They sold a copy of their first song, "Crazy Arms", to the legendary Sam Phillips, president of Sun Records. Phillips had become famous because of his discovery of Elvis Presley and Johnny Cash. Phillips liked the song, and Jerry Lee Lewis began to establish his name in Memphis in late 1956.
In January 1957, he recorded a new song, the self-penned "End of the Road." It was unusual in that singers did not write their own songs at that time. Jerry was fresh in other ways, too. He not only wrote some of his own songs, he played piano. Other rock singer of that era played guitar, such as Elvis Presley, Tommy Steele, Johnny Cash, Chuck Berry, etc. The piano wasn't considered a rock and roll instrument – Jerry Lee Lewis changed all that.
Jerry Lee Lewis got his big break in April 1957, when he went to New York and appeared on "The Steve Allen Show" (1956) with the "Whole Lotta Shakin' Goin' On". A couple of #1 hits would soon follow — "Great Balls of Fire" (which became his signature song), "Breathless" and "High School Confidential". Many people predicted that Jerry Lee would be bigger than the King of Rock-n-Roll – Elvis Presley.
In late 1957 the audiences at one of his shows stormed the stage when he set a piano on fire. Chuck Berry was supposed to have ended the evening's show, but he refused to go on, wisely understanding that he could never top what Jerry just did.
Elvis went into the army in the late winter of 1958, so Jerry Lee was now virtually alone at the top of the rock heap. All was not rosy, however. Problems did arise–very serious problems. In 1957, he married for a third time, secretly, to the 13-year-old daughter of his cousin and partner J. W. Brown, 'Myra Gale Brown (I)'. Her parents were deeply hurt when they found out, but after a discussion with Sam Phillips, they forgave Jerry.
The marriage was unknown to the press and fans until Jerry's arrival in England for a tour in the spring of 1958. Fans again stormed the stage — but this time to express their disgust. The marriage was front-page news around the world. His career was in shambles. He had just signed a five-year contract with Sun Records, and he did continue to record songs until 1963. During the last years of the contract, however, he made very few rock songs. Most of his compositions were ballads, possibly due to his depression at the direction his career had taken.
Jerry Lee Lewis and Myra had one son, Steve Allen Lewis, who drowned at age three. The couple divorced in 1970, after 13 years of bad treatment in the press. However, Jerry's career was not completely finished. In 1968 he made his great comeback, as a country singer. During the next few years, he performed more and more rock 'n' roll.
He married a fourth time in October 1971 but the marriage ended two years later, after producing one child. That same year, Jerry's son from his first marriage died in an auto accident. The combination of divorce, personal tragedies and his career stagnation contributed to his turning to the bottle, and for the next 15 years Jerry had a severe drinking problem. His drinking also contributed to a rash of health problems, and he almost died of a ruptured stomach in 1981. People thought that The Killer was finished. But he wasn't.
Jerry Lee Lewis puts on brilliant concerts even today, in his 70's, and with his wild life behind him. He divorced his sixth wife in the summer of 2005, after over 20 years of marriage. He is still a wild man – and he is still on fire!