Grammy Hall Of Fame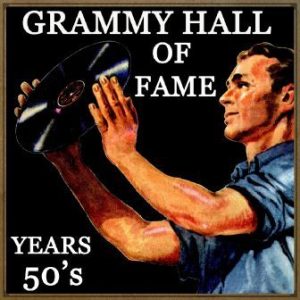 Add to favorites
Title: Grammy Hall Of Fame
Artist: Varios Artistas
Date: 2010-10-10
Songs:
01 In The Mood
Artist: Glenn Miller

Songwriter: Joe Garland, Razaf

02 Rock Around The Clock
Artist: Bill Haley

Songwriter: J. De Knight, M. C. Freedman

03 The Great Pretender
Artist: The Platters

Songwriter: Buck Ram

04 Summertime Blues


Artist: Eddie Cochram

Songwriter: Eddie Cochram, Capehart

06 Peggy Sue
Artist: Buddy Holly

Songwriter: Allison, Petty

09 Make The Knife
Artist: Bobby Darin

Songwriter: Blitzein

11 Cry
Artist: Johnnie Ray

Songwriter: Churchill, Kohlman

12 Whispering


Artist: Paul Whiteman

Songwriter: Schonberger, Coburn, Rose

16 Lover Man
Artist: Billie Holiday

Songwriter: Davis, Sherman, Ramírez

17 I Can't Get Started
Artist: Bunny Berigan

Songwriter: Gershwin, Duke

20 Mood Indigo
Artist: Duke Ellington

Songwriter: Ellington, Mills, Bigard

21 Woodchopper's Ball
Artist: Woody Herman

Songwriter: Bishop, Herman

23 Am I Blue
Artist: Ethel Waters

Songwriter: G. Clarke, H. Akst

24 Singin' In The Rain
Artist: Gene Kelly

Songwriter: Brown, Freed

25 Maybellene
Artist: Chuck Berry

Songwriter: Berry, Freed, Fratto

26 Secret Love
Artist: Doris Day

Songwriter: Webster, Fain

27 Tea For Two
Artist: Art Tatum

Songwriter: Youmans, Caesar

29 Frenesí
Artist: Artie Shaw

Songwriter: Alberto Dominguez

30 Great Balls Of Fire
Artist: Jerry Lee Lewis

Songwriter: Hammer, Blackwell

31 If You Could See Me Now


Artist: Sarah Vaughan

Songwriter: Dameron, Sigman

32 Every Day I Have The Blues
Artist: Joe Williams, Ella Fitzgerald

Songwriter: Chatman, York

33 Tom Dooley


Artist: The Kingston Trio

Songwriter: Dave Guard
Grammy Hall Of Fame, Varios Artistas
Grammy Hall Of Fame
En 1973 se creó The Grammy Hall Of Fame (El Salón de la fama de Los Grammy ). Su objetivo es el de honrar aquellas grabaciones, con 25 años de antigüedad como mínimo, que tienen una "importancia cualitativa o histórica".
Se tienen en cuenta todos los géneros, incluyendo rock clásico, country, R & B, ópera…
En la actualidad hay cerca de 850 canciones o discos que han sido merecedores de este galardón.
En este disco se reúnen 34 grabaciones históricas que ha sido consideradas por el mundo de la música (Editores, Productores, Músicos, Compositores…)

Recopilaciones Vintage Vocal Jazz
Favorites
Your favorites will be here.
Apple
Amazon
Deezer
Genre