The Golden Gate Quartet Vs.The Delta Rhythm Boys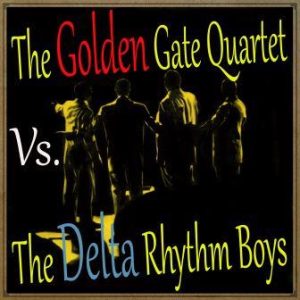 Add to favorites
Title: The Golden Gate Quartet vs. The Delta Rhythm Boys
Artist: The Golden Gate Quartet, The Delta Rhythm Boys
Country: USA
Date: 2014-05-10
The Golden Gate Quartet es una parte de la historia, pero están lejos de ser historia. Casi ocho décadas después de que surgieran en el segregado sur norteamericano en la época de la depresión, han demostrado su capacidad de perdurar con un álbum, acertadamente titulado "Incredible" que demuestra ser tan de vanguardia como todo lo que han hecho antes.
En el curso de una carrera constante, The Golden Gate Quartet ha experimentado diversos cambios desde su formación.
The Golden Gate Quartet es un continuo. Cada vez que Orlandus "Dad" Wilson y Clyde Riddick (respectivamente miembros de la formación desde 1936 y 1940 hasta su fallecimiento en 1998 y 1999) reclutaban a un nuevo miembro, éste era instruido en la importancia de la tradición, así como de la innovación.
---
The Delta Rhythm Boys fueron un grupo vocal activo de Estados Unidos durante más de 50 años. El grupo se formó por primera vez en la Universidad de Langston en Langston, Oklahoma en 1934 por Elmaurice Miller, Crawford Traverse, Essie Joseph Adkins y Otha Lee Gaines.
En 1936 The Delta Rhythm Boys se trasladan a la Universidad Dillard en Nueva Orleans, donde actuaron bajo el nombre de Nueva Orleans y Frederick Hall Quinteto Quinteto. Clinton Holland (pronto reemplazado por Carl Jones) y Kelsey Pharr (reemplazado por Hugh Bryant en 1942) sustituye Miller y Adkins. René DeKnight se convirtió en su pianista.

Grandes Versus Grupos Vocales Vocal Jazz
Favorites
Your favorites will be here.
Apple
Spotify
Amazon
Genre