THE DELTA RHYTHM BOYS
Biographie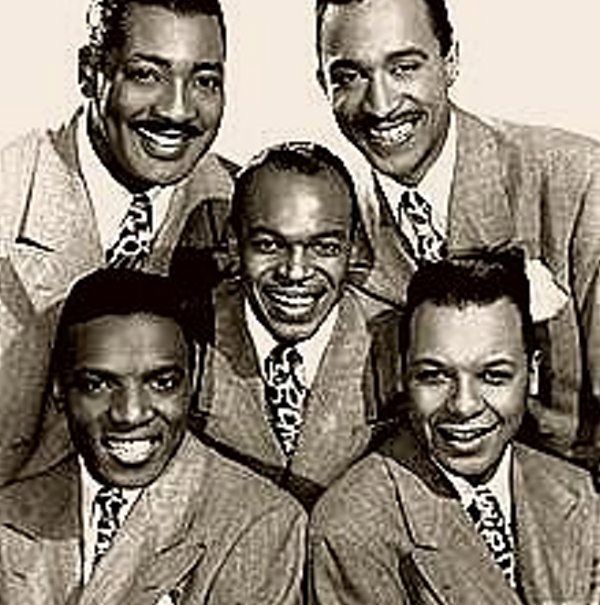 The Delta Rhythm Boys were an American vocal group active for over 50 years in the 20th century. The Delta Rhythm Boys was first formed at Langston University in Langston, Oklahoma in 1934 by Elmaurice Miller, Traverse Crawford, Essie Joseph Adkins and Otha Lee Gaines. In 1936 they moved to Dillard University in New Orleans, where they worked under Frederick Hall[disambiguation needed] under the names New Orleans Quintet and Frederick Hall Quintet. Clinton Holland (soon replaced by Carl Jones) and Kelsey Pharr (replaced by Hugh Bryant in 1962) replaced Miller and Adkins. Rene DeKnight became their pianist.
The Delta Rhythm Boys appeared often in the 1940s on radio programs such as Amos and Andy and The Joan Davis Show, and performed on Broadway in the shows Sing Out the News and Hot Mikado. They also appeared extensively in film, including in You'll Never Get Rich with Bing Crosby and Rita Hayworth. Aside from their own recordings, they served as background vocalists for Charlie Barnet, Mildred Bailey, Ella Fitzgerald, and Ruth Brown.
One of their most successful releases was a vocal version of the Glenn Miller instrumental hit "I Dreamt I Dwelt in Harlem" from 1941 with lyrics by Buddy Feyne and music by Glenn Miller Orchestra arranger and composer Jerry Gray, Ben Smith, and Leonard Ware.
In the 1950s they began to amass a large fan base in Europe, particularly in Scandinavia. In 1956, the group relocated to Europe and performed there up until 1987, when Gaines and Bryant died.
In 1960, Kelsey Pharr died in Honolulu after a trip to Japan. Soon after, Carl Jones left to have more time with his family and was replaced by first tenor Herb Coleman. Hugh Bryant replaced Pharr.
With the American music scene changing rapidly, the Deltas found their appeal diminishing. Overseas they were royally received, however, so in the early 1960s the group made Paris their home base for years of European performances.
In 1974, Herb Coleman was shot in Paris and died in the arms of Lee Gaines.Original Delta member Traverse Crawford died in the following year. By 1979, the lineup was Gaines on bass, Bryant on baritone, Walter Trammell on first tenor, and Ray Beauty on second tenor. Lee Gaines died of cancer in Helsinki on July 15, 1987. At Gaines's funeral, Hugh Bryant collapsed while performing, and died, apparently from a heart attack.
The Delta Rhythm Boys were later inducted into the Vocal Group Hall of Fame.
One of their most famous song, Dry Bones, has an special appearance in the LucasArts graphic adventure Monkey Island 2: LeChuck's Revenge when 2 skeletons dance and sing the song.
The Delta Rhythm Boys version of "Alouette" is currently used in a commercial for Target.