The Spanish Guitar, "Flamenco Masters", Niño Ricardo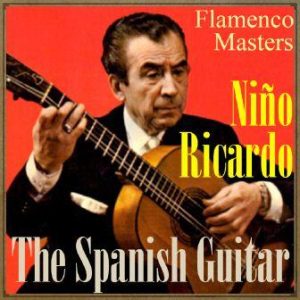 Label: The Spanish Guitar, "Flamenco Masters"
Release date: 2013-01-05
Niño Ricardo (1904-1972), guitarrista español considerado uno de los intérpretes más destacados de ese instrumento. Heredero directo de Ramón Montoya, supo armonizar la solemnidad y los sugestivos esquemas de éste con las aportaciones de las nuevas corrientes.
Manuel Serrapí Sánchez nació y murió en Sevilla. Se formó con el guitarrista Ramón Montoya, tomando de éste su dulzura y el desarrollo de sus arpegios y armonías con la solidez de la guitarra culta. De Javier Molina, Niño Ricardo aprendió el acompañamiento y de Manolo de Huelva tomó el ritmo y la gracia, especialmente en el toque por bulerías. Esta mezcla generó una síntesis de lo que hoy día es la nueva guitarra flamenca, profunda, de sólida formación, jonda y virtuosa a un mismo tiempo.
Niño Ricardo ceó su propio estilo e incluso inventó toques específicos para algunos cantes, que hoy se consideran clásicos. Paco de Lucía dijo de él que era el "Papa de la guitarra" para los de su generación. Incluso se llegó a decir que no había cantaores a la altura de su guitarra.
Con Niño Ricardo cantaron Antonio Mairena, Pepe Pinto, la Niña de los Peines, Manuel Torre, el Niño Gloria, Tomás Pavón y otros muchos, que completarían el elenco de los mejores cantaores de su época. En él convergen el flamenco más clásico y la vertiginosa revolución moderna de la guitarra flamenca. Profundo conocedor del cante, pudo desarrollar su personalidad sin perder la función de acompañante y sin ceder en su libertad e independencia