Broadway, Billy Eckstine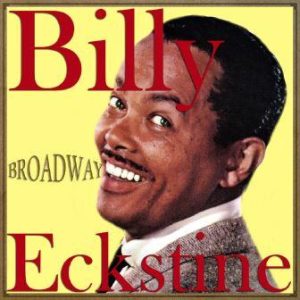 Add to favorites
Title: Broadway
Artist: Billy Eckstine
Country: USA
Date: 2013-11-01
Billy Eckstine (Pittsburgh, 8 de julio de 1914 – Pittsburgh, 8 de marzo de 1993) fue un cantante estadounidense de jazz y música pop.
Poseedor de una voz de barítono, Billy Eckstine fue durante los años cuarenta una figura carismática de la música popular negra, al liderar una de las primeras big band de bop y convertirse en el primer cantante negro de baladas románticas (fue llamado el Sinatra negro). Con el paso de los años, su influencia ha sido considerable en el ámbito del soul y el rhythm and blues.
Billy Eckstine comenzó a cantar a los nueve años y participó en numerosos espectáculos para aficionados. Aunque su vocación había sido la de jugador de fútbol americano, una grave lesión lo recondujo hacia el mundo de la música. Tras diversos trabajos al oeste de Chicago a finales de los años treinta, Eckstine fue invitado por Earl Hines para unirse a su Grand Terrace Orchestra en 1939.
Aunque sus primeros éxitos fueron canciones triviales como "Jelly, Jelly" y "The Jitney Man", Billy Eckstine grabó también varios estándares como "Stormy Monday". Hacia 1943, se acompañaba de estrellas como Dizzy Gillespie, Charlie Parker y Sarah Vaughan. Tras formar su propia banda ese año, contrató a los tres y gradualmente se hizo con más figuras modernas y con futuras estrellas: Wardell Gray, Dexter Gordon, Miles Davis, Kenny Dorham, Fats Navarro y Art Blakey, así como con arreglistas como Tadd Dameron y Gil Fuller.
La Billy Eckstine Orchestra fue la primera big band bop, y su líder reflejaba las innovaciones bop adaptando sus armonías vocales a las baladas normales. A pesar del matiz moderno del grupo, Eckstine encabezó las listas frecuentemente a mediados de los cuarenta, con temas como "A Cottage for Sale" y "Prisoner of Love".
En las giras por Europa y América, Billy Eckstine tocaba también la trompeta, el trombón de válvulas y la guitarra.