Unchained Melody, Bert Kaempfert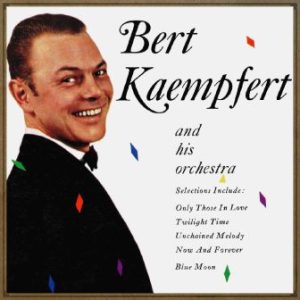 Label: Unchained Melody
Release date: 2011-03-03
Bert Kaempfert (Hamburgo, Alemania, 16 de octubre de 1923 – Mallorca, España, 21 de junio de 1980) fue un compositor y director de orquesta alemán. Bert Kaempfert fue un pionero del jazz haciendo de este una audición atractiva para un público más general y escribiendo canciones muy importantes, como "Strangers in the Night" (grabado originalmente por Ivo Robić) y "Spanish Eyes".
Bert Kaempfert nació en Hamburgo, Alemania, y estudió en la Escuela de la Música de esa ciudad. Era multinstrumentista. Primero trabajó como director de orquesta al servicio de Hans Busch durante la Segunda Guerra Mundial y más tarde formó su propia gran orquesta, con la que haría una gran gira. Bert Kaempferta también trabajó como compositor y arreglista en los discos de Freddy Quinn e Ivo Robic.
Datos
"Strangers in the Night" (con letra de Charles Singleton y Eddie Snyder) fue compuesta originalmente para Ivo Robić y fue grabada como parte de la banda sonora original de Espías en acción (A Man Could Get Killed). Frank Sinatra la convertiría en número uno en 1966.
Otro "hit" fue Wooden Heart," esta vez cantado por Elvis Presley en la película GI Blues en 1961.
Bert Kaempfert fue el productor de My Bonnie, y el resto de las canciones que los Beatles (entonces The Silver Beatles) grabaron para Polydor durante su estancia en Hamburgo, en 1961-62.