Woman Of Jazz, Varios Artistas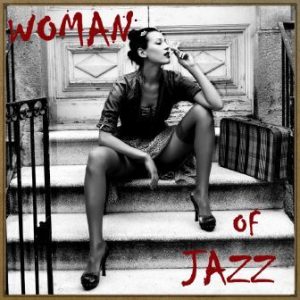 Add to favorites
Title: Woman Of Jazz
Artist: Varios Artistas
Country: España
Date: 2011-04-05
Songs:
01 Stompin' At The Saboy


Artist: Bob Mersey, Hecky Krasnow, Nina Simone

Songwriter: Goodman, Webb, Sampson, Razat

02 Make Love To Me
Artist: Julie London

Songwriter: Mann, Weiss, Cannon

05 Ella Hums The Blues
Artist: Ella Fitzgerald, Don Abney And His Quartet

Songwriter: Ray Heindorf

06 You Ain't Got It No More


Artist: Her Boyfriends, Julia Lee

Songwriter: H. Wax

07 The Lonesome Road (Blues)


Artist: Les Paul & Mary Ford

Songwriter: Nat Shilkret, Gene Austin

08 Tea For Two


Artist: Dick Jacobs And His Orchestra, Eyde Gorme & Steve Lawrence

Songwriter: Youmans, Caesar

09 Don't Cry Baby


Artist: Judy Carol, Lucky Millinder Orchestra

Songwriter: S. Unger, J. Johnson, S. Bernie

10 Tired
Artist: Pearl Bailey

Songwriter: A. Roberts, D.Fisher

11 Why Don't You Do Right


Artist: Ruth Brown, Richard Wess And His Orchestra

Songwriter: McCoy

12 Mr. Wonderful


Artist: Sarah Vaughan

Songwriter: Bock, Holofcener, Weiss

13 Sugar
Artist: Peggy Lee, Harold Mooney

Songwriter: Mitchell, Alexander, Pinkard

14 Rock Me


Artist: Rosetta Tharpe, Lucky Millinder Orchestra

Songwriter: Thomas A. Dorsey

15 I'll Never Stop Loving You
Artist: Doris Day, Percy Faith And His Orchestra

Songwriter: Chan, Brodzky

16 Come Rain Or Come Shine, St. Louis Woman
Artist: Jo Stafford, Paul Weston And His Orchestra

Songwriter: J. Mercer, Arlen

19 I Shoulda Quit
Artist: Al McKibbon, Dickie Harris, Ethel Waters, George Treadwell, J. C. Heard, Mary Osborne, Ray Perry, Reg. Beane

Songwriter: L. Feather

20 When You're Smiling
Artist: Billie Holiday, Teddy Wilson

Songwriter: Fisher, Goodwin, Shay

21 Take Everything But You
Artist: Kitty Kallen, Jack Pleis And His Orchestra

Songwriter: Maurice Abrahams, Elmer Colby

22 I'm Feeling Blue At The Blue Note


Artist: Pia Beck, His Trio

Songwriter: Pia Beck

23 Whispering
Artist: Patti Page

Songwriter: Schonberger

24 Treasure Of Love


Artist: Dorothy Collins, George Cates And His Orchestra

Songwriter: Shapiro, Stallman

25 Goody - Goody


Artist: Inge Brandenburg, Werner Müller And His Orchestra

Songwriter: Johnny Mercer, Malneck, Burg, Holland
Jazz Recopilaciones Vintage Vocal Jazz
Favorites
Your favorites will be here.
Amazon
Deezer
Genre