Whole Lotta Lovin', Fats Domino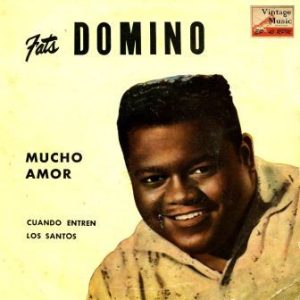 Label: Whole Lotta Lovin'
Release date: 2009-09-21
Fats Domino, Antoine Dominique Domino (Nueva Orleans, Luisiana, 26 de febrero de 1928) es un cantante, compositor y pianista clásico del R&B y rock and roll afroamericano de los Estados Unidos. Durante los años 1950 y comienzo de los 60 fue el cantante negro que más discos vendió. Domino es también un pianista individualista con influencias del estilo boogie-woogie. Su éxito sirvió de impulso para los artistas de Nueva Orleans, llegando a influir en lugares tan insospechados como Jamaica (el ska jamaicano posee influencias de su música). La personalidad afable de Fats Domino y su rico acento se suman a su encanto natural.

Fats Domino nació en el seno de una familia numerosa con varios miembros músicos. Su padre era violinista y su tío Harry actuó como trompetista de jazz en las orquestas de Oscar Celestin y Kid Ory. A la edad de 6 años aprendió a tocar el piano y más tarde empezaría con actuaciones en público acompañado de Billy Diamond, un bajista que le bautizaría como Fats (Grasas).
En estos primeros años alternaba la música con diferentes trabajos. Fats Domino fue vendedor de helados y más tarde trabajó en una fábrica de somieres. En esta empresa sufrió un importante accidente laboral al caérsele encima una pila de somieres. Como resultado se le lastimaron las manos hasta tal punto que los médicos le comunicaron que no podría volver a tocar más el piano. Fats Domino no se resignó a ello y, tras una larga lucha para su rehabilitación, consiguió regresar nuevamente a los escenarios.
Fats Domino fue descubierto en 1948 en el Hideway Club por Lew Chudd de Imperial Records cuando cobraba tres dólares por semana. Su verdadera carrera comenzó en 1949 con el tema "The Fat Man", que compuso junto con Dave Bartholomew, a quien conoció en la Imperial, y que es considerado por algunos como la primera grabación de un rock and roll. La grabación, basada en el tema "Junker's Blues" de Champion Jack Dupree, fue un enorme éxito, vendiendo alrededor de un millón de copias y llegando al segundo puesto en la lista de Billboard R&B Charts. Hasta nuestras fechas (2006), Fats Domino ha vendido más de 110 millones de discos.