Volare, The McGuire Sisters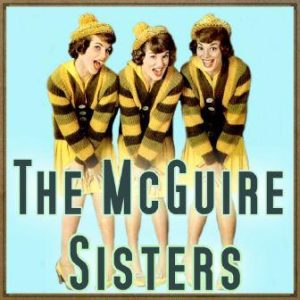 Add to favorites
Title: Volare
Artist: The McGuire Sisters
Country: USA
Date: 2013-03-27
ÁLBUMES EN FORMATO CD CD'S VOCAL JAZZ Girl Group Grupos Vocales Pop
Songs:
01 Volare (Nel Blu Dipinto Di Blu)
Artist: The McGuire Sisters

Songwriter: D. Modugno, F. Migliacci, M. Parish

04 Goodnight, Sweetheart, Goodnight
Artist: The McGuire Sisters

Songwriter: James Hudson, Calvin Carter
The McGuire Sisters se componía de tres hermanas, Christine McGuire (nacida el 30 de julio 1926), Dorothy McGuire (nacida el 13 de febrero 1928), y Phyllis McGuire (nacida el 14 de febrero 1931). Entre sus canciones más populares son "Sincerely "y "Sugartime".
The McGuire Sisters nacieron en Middletown, Ohio y se criaron en Miamisburg. Cuando comenzaron en 1935, la más joven , Phyllis, tenía sólo cuatro años de edad.
En 1952, aparecieron en Godfrey´s Talent Scouts Arthur, y, en consecuencia, Godfrey los contrató para sus espectáculos , donde permanecieron durante siete años. Actuaron ante cinco Presidentes de los Estados Unidos: (Richard Nixon, Gerald Ford, Jimmy Carter, Ronald Reagan y George HW Bush), y para la reina Isabel II.

ÁLBUMES EN FORMATO CD CD'S VOCAL JAZZ Girl Group Grupos Vocales Pop
Favorites
Your favorites will be here.
Spotify
Amazon
Deezer
Genre