To Be Love, Jackie Wilson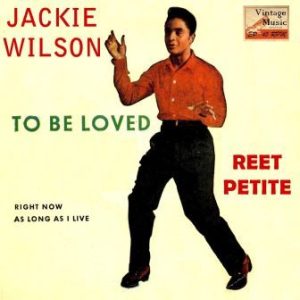 Add to favorites
Title: To Be Love
Artist: Jackie Wilson
Country: USA
Date: 2010-05-24
Jackie "Sonny" Wilson nació el 9 de Junio de 1934 en Detroit (Michigan, USA). La familia de Jackie Wilson, procedentes del Mississippi, es un poco peculiar; su padre, Jack, es un borrachuzo de mucho cuidado, además de no conocérsele actividad laboral; su "pobre" madre, Eliza Mae, perdió a sus dos anteriores hijos por lo que el pequeñín de Jackie era su vida entera.
Bien pequeño, el bueno de Jackie Wilson se ganaba la vida como buenamente podía y sabia, cantando. Aún no siendo religioso, cantaba con su cuarteto "Ever Ready Gospel Singers Group" en las iglesias de la zona, ganaba un poco de "pasta" y la gastaba en una de sus principales "aficiones": la bebida. Cuentan que comenzó a beber "profesionalmente" a la temprana edad de 9 añitos.
Como era de esperar, Jackie Wilson era un chaval problemático, el típico busca líos, siempre metido en jaleos, miembro de una temida banda de chavales llamados "The Shakers". Visitó, supongo que muy a su pesar, el correccional "Lansing Correctional Institute" en un par de ocasiones, donde aprendió el noble arte del boxeo.
En Febrero de 1951 Jackie Wilson se casó de penalti con su novia Freda Hood, a la tierna edad de 17 años, Freda tenía 16. En esa época cantaba con un grupo de amiguetes por 5 dólares la actuación.
En 1953, después de una exitosa audición, sustituye a Clyde Mc Phatter en The Dominoes, ya que Mc Phatter entra a formar parte de los míticos Drifters. La primera canción grabada con The Dominoes, "You Can´t Sep a Good Man Down" tiene un éxito relativo, la segunda grabación "Rags to Riches" alcanza puestos altos en las listas, y la tercera grabación, primera con Jackie Wilson como cantante "líder", "St. Therese of the Roses" (1956) se convierte en un número uno.