The Wizard of Oz (O.S.T – 1939)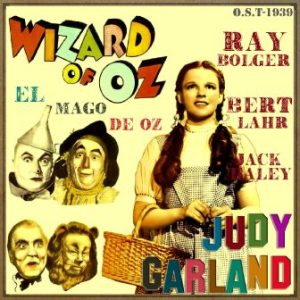 Label: The Wizard of Oz (O.S.T - 1939)
Release date: 2012-01-25
El Mago de Oz
The Wizard of Oz
1939
Dirección Victor Fleming, Mervyn LeRoy, Richard Thorpe, King Vidor
Producción Mervyn LeRoy, Arthur Freed
Novela: L. Frank Baum
Guión Película: Noel Langley, Florence Ryerson, Edgar Allan Woolf
Música Herbert Stothart
Fotografía Harold Rosson
Montaje Blanche Sewell
Protagonistas Judy Garland, Frank Morgan, Ray Bolger, Jack Haley, Bert Lahr, Billie Burke, Margaret Hamilton
Productora Metro-Goldwyn-Mayer
Presupuesto US$2,777,000
Recaudación US$16,538,431
El mago de Oz (1939) es una película musical de fantasía producida por Metro-Goldwyn-Mayer, aunque ahora Time Warner posee los derechos de la película. Contó con las actuaciones de Judy Garland, Frank Morgan, Ray Bolger, Jack Haley, Bert Lahr, Billie Burke y Margaret Hamilton. En la actualidad, es considerada una película de culto, a pesar de su proyecto inicial como fábula cinematográfica infantil.
La cinta está basada en la novela infantil El maravilloso mago de Oz de L. Frank Baum, en la cual una joven estadounidense es arrastrada por un tornado en el estado de Kansas y dejada en una fantástica tierra donde habitan brujas buenas y malas, un espantapájaros que habla, un león cobarde, un hombre de hojalata y otros seres extraordinarios.
Música y letras fueron escritas por Harold Arlen y E.Y. "Yip" Harburg, quienes ganaron premios Óscar por mejor música original y mejor canción por "Over the Rainbow".
Secuelas, protosecuelas y trabajos relacionados
En 1995, Gregory Maguire realizó la aclamada novela, Wicked: The Life and Times of the Wicked Witch of the West, una mirada distinta a las brujas de El mago de Oz: Glinda y Elphaba. Stephen Schwartz y Winnie Holzman lo transformaron en un musical titulado Wicked en el 2003 con Idina Menzel como Elphaba y Kristin Chenoweth como Glinda.
La película volverá a salir en el cine pero esta vez en DIGITAL 3D y IMAX 3D, la película saldrá en septiembre de 2012 y también estará disponible en Bluray 3D
El mago de Oz tiene una secuela oficial, la producción animada Journey Back To Oz, la cual cuenta con la voz de Liza Minnelli, hija de Garland, como Dorothy, y Margaret Hamilton como la voz de la tía Em.
El musical de 1974 y película de 1978 The Wiz fueron adaptaciones de la misma historia
La película Oz, un mundo fantástico (Return to Oz), fue hecha por los estudios Walt Disney en 1985 con la actuación de Fairuza Balk como Dorothy. Esta película es considerada por los fans de la primera parte como una secuela poco digna por su simpleza. Dorothy es interpretada por una niña, lo cual hace parecer que es más pequeña que en la película original que fue interpretada por Judy Garland con 16 años.
Una serie animada basada en la película original fue creada para ABC Network en 1990. La serie duró sólo una temporada.
En el 2005, Illusive Arts Entertainment lanzó Dorothy, un cómic basado en la historia de Baum que contenía numerosas referencias a la película.
En el 2007, el canal Sci Fi estrenó la mini serie Tin Man, una versión re-imaginada de lo que sería el mundo de Oz.