The Proposal, The Brothers Four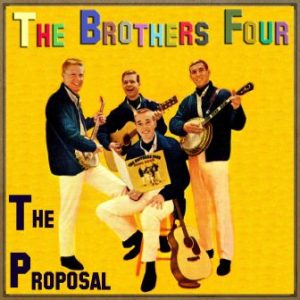 Add to favorites
Title: The Proposal
Artist: The Brothers Four
Country: USA
Date: 2011-09-10
The Brothers Four se crea en la universidad de  Universidad de Washington 1957 por Flick Bob, John Paine, Mike Kirkland y Dick Foley.Los Cuatro eran miemnros de una fraternidad universitaria, de ahí el nombre del grupo.
Sus primeras actuaciones profesionales fueron el resultado de una broma que les gastó  en 1958 una fraternidad rival, que lo había preparado todo haciendoles creer que el Club Colonia Seattlequería contratarles, por lo que se presentaron en el club sin ser esperados.
A pesar de todo, los responsables del club les permitieron cantar algunas canciones siendo contratados para los sigientes días. Dick Foley recuerda que casi siempre cobraban en cervezas.
The Brothers Four salieron hacia  San Francisco en 1959, donde se reunieron con Mort Lewis y Dave Brubeck, director de 's. Lewis se convirtió en su manager y más tarde, ese mismo año, les aseguró un contrato con Columbia Records . Su segundo single, "Greenfields", lanzado en enero de 1960, alcanzó el número 2 en las listas de éxitos, y su primer álbum, "Brothers Four" , lanzado a finales de año, en el top 20.
Otros puntos destacados de su carrera temprana incluyó en su cuarto single, "The Green Leaves of Summer", de la película de John Wayne,  El Álamo , en1961. También grabó la canción la serie de televisión Hootenanny "Hootenanny Saturday Night" en 1963 de la cadena ABC.
La invasión británica y el ascenso de músicas más vanguardistas de rock con nombres  como Bob Dylan puso fin a la etapa juvenil y de más éxito de The Brothers Four , pero siguieron actuando y grabando discos.
The Brothers Four  intentó un regreso al grabar una versión altamente comercial de Dylan " Mr. Tambourine Man ", pero fueron incapaces de publicarla, debido a problemas de licencia, y The Byrds finalmente les robó el protagonismo editando una versión de la canción
Mike Kirkland abandonó el grupo en 1969, y fue reemplazado por Mark Pearson, otro ex alumno de la Universidad de Washington. En 1971, Pearson fue reemplazado por Bob Haworth, que se quedó hasta 1989 y fue reemplazado debido al retorno de Pearson. Dick Foley dejó el grupo en 1990 y fue reemplazado por Terry Lauber. A pesar de todos los cambios y después de pasar 54 años en el negocio, el grupo sigue activo.