The Playmates, 1958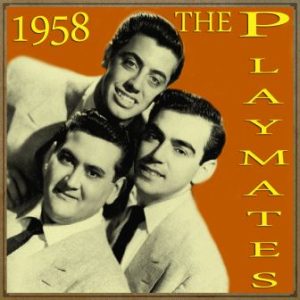 Label: The Playmates, 1958
Release date: 2014-03-05
The Playmates fueron, durante los años 50, grupo vocal , liderado por el pianista Chic Hetti ( 26 de febrero 1930), el batería ; Donny Conn ( 29 de Marzo 1930), y Morey Carr (nacido el 31 de julio 1932), todos de Waterbury , Connecticut .
En The Playmates, Donald Claps era el letrista, Carl Cicchetti era el compositor pianista y Morey Cohen.
Todos eran de Waterbury Connecticut y crearon el grupo en la Universidad de Connecticut , Después de su graduación comenzaron a viajar por Estados Unidos y Canadá actuando en pequeños salones y clubes nocturnos. En 1952 su nombre era original eran the "Nitwits" (los "imbéciles") más adelante como las Playmates.
Firmaron con  Roulette Records en 1958 como el primer grupo vocal de la discográfica. El grupo grabó un álbum llamado Playmates Visit the West Indies. Luego lanzaron dos sencillos que entraron en el Top 40  –"Jo-Ann" y "Don't Go Home"
The Playmates llegaron a estar en el nº4  (9 de julio, 1958) cuando cambiaron de compañía a la Novelty Records con la canción  "Beep, Beep"
"Beep, Beep song "estuvo en el Billboard Top 40  durante doce semanas. Vendió más de un millón de copias, y fue galardonado con un disco de oro .
Al mismo tiempo que esta canción, American Motors (AMC) fue estableciendo récords de producción y ventas de motos de los modelos de Rambler.
Debido a una directiva por la BBC que las canciones no incluyan  nombres de marcas en sus letras , una versión de "Beep Beep", fue grabada para el mercado Europeo  en sustitución del Cadillac y Nash Rambler con los términos genéricos limusina y  bubble car.
El grupo se separó se separó en 1965.