The Man (To J. F. Kennedy), The Golden Gate Quartet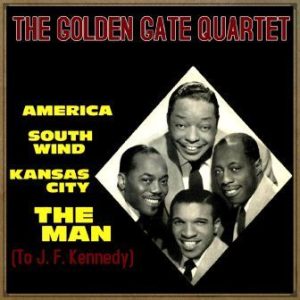 Add to favorites
Title: The Man (To J. F. Kennedy)
Artist: The Golden Gate Quartet
Country: USA
Date: 2012-11-07
The Golden Gate Quartet es una parte de la historia, pero están lejos de ser historia. Casi ocho décadas después de que surgieran en el segregado sur norteamericano en la época de la depresión, han demostrado su capacidad de perdurar con un álbum, acertadamente titulado "Incredible" que demuestra ser tan de vanguardia como todo lo que han hecho antes.
En el curso de una carrera constante, The Golden Gate Quartet ha experimentado diversos cambios desde su formación.
The Golden Gate Quartet es un continuo. Cada vez que Orlandus "Dad" Wilson y Clyde Riddick (respectivamente miembros de la formación desde 1936 y 1940 hasta su fallecimiento en 1998 y 1999) reclutaban a un nuevo miembro, éste era instruido en la importancia de la tradición, así como de la innovación.
Hoy el grupo continúa bajo la dirección musical de Clyde Wright de 81 años y segundo tenor de esta institución desde 1954. Encontramos igualmente a Paul Brembly, barítono y en el seno de la formación desde 1971 y sobrino de "Dad" Wilson, miembro fundador de The Golden Gate Quartet  y en adelante acompañados por Frank Davis, primer tenor, y de Anthony Gordon al bajo. Wright es consciente de que conciliar esas dos dimensiones (tradición-innovación) es cualquier cosa menos una contradicción. Con sus compañeros se ocupan de que la música del cuarteto sigua siendo tan relevante hoy como siempre ha sido.
Se han pasado la vida abriendo puertas. De un barrio de barberos de Berkeley, Virginia, el cuarteto rompió todos los moldes y creó un enfoque diferente al de los grupos afroamericanos de de la época. En un momento en que la música gospel (conjunción de la religión con el blues) se adentraba en nuevos terrenos, The Golden Gate Quartet revolucionaron la escena con su swing y su groove claramente asociada con el jazz. También añadieron patrones del pop a su repertorio e imitaban con su técnica riffs instrumentales, emulando el sonido de trompetas, saxofones y los sonidos de la vida cotidiana.
FUENTE: http://www.cultyart.com