The Lonely One, Duane Eddy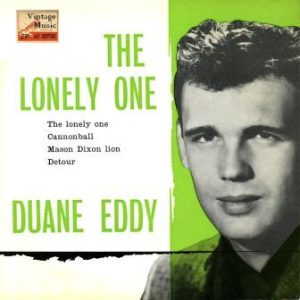 Add to favorites
Title: The Lonely One
Artist: Duane Eddy
Country: USA
Date: 2010-01-14
Duane Eddy es un guitarrista estadounidense de rock and roll, nació en la ciudad de Corning, estado de Nueva York, el 26 de abril de 1938.
Duane Eddy se popularizó el famoso sonido  de  la  guitarra eléctrica estilo "twang",        inspirada en el Country y el Western, que se obtiene mediante  la sustitución  de las cuerdas del   instrumento con las de una guitarra eléctrica y la  reverberación muy amplificada.  Pariente pobre de este estilo,  la influencia de Duane Eddy con el rock y el pop, sin embargo, no es despreciable.
Duane Eddy fue redescubierto en la década de 1980 en particular con un single de la canción de Peter Gunn por el grupo Art of Noise.