The King's Heralds Quartet Cantan en Español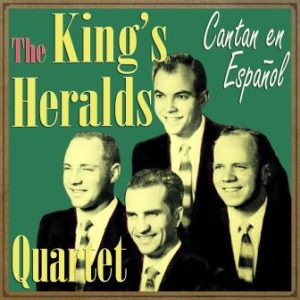 Label: The King's Heralds Quartet Cantan En Español
Release date: 2015-06-12
The King´s Heralds (Los Heraldos Del Rey)  son un cuarteto vocal cristiano (Adventistas del Séptimo Día) de origen estadounidense, tributarios del sonido A Cappella y de la música Gospel tradicional, formados en el año 1927 con el nombre de "The Lone Star Four" (Los cuatro de la estrella Solitaria). Son reconocidos por su participación, durante más de 40 años, en Voice Of Prophecy (siglado VOP), uno de los show radiales más célebres y longevos de la radio estadounidense y mundial.
Los primeros integrantes de The King´s Heralds fueron los hermanos Lewis, Waldo y Wesley Crane, y el cantante de bajo Ray Turner, estudiantes universitarios que fundaron el cuarteto en la Southwestern Junior College (actual Southwestern Adventist University) de la ciudad de Keene, Texas.
Los Heraldos Del Rey son conocidos a nivel mundial por su nombre original en inglés The King´s Heralds, el cual adoptaron en el año 1937, luego de ser contratados por el evangelista adventista Harold M.S. Richards para participar en el programa radial Bible Tabernacle of the Air que éste conducía en la estación emisora KNX de Los Ángeles, California, desde 1929 y el cual pasó a denominarse, ocho años después, The Voice Of Prophecy (la Voz de la Profecía).
La experiencia y vocación radial de The King´s Heralds  ya tenía antecedentes, desde que el Pastor R.L. Benton contactó al cuarteto para que apoyara el ministerio en una transmisión que patrocinaba la Iglesia Adventista del Séptimo Día en la emisora KFPL de la ciudad de Waco, Texas, desde principios de los años treinta.
La popularidad de The King´s Heralds  crecía fuertemente en la medida en que el programa radial de Richards mejoraba su acogida entre el público y sus seguidores aumentaban. Por muchos años el programa abría su transmisión con el canto Lift Up The Trumpet (adaptada al español con el título Pronto vendrá), convirtiéndose ésta en la más universal de las interpretaciones del cuarteto.
La presentación era seguida por el mensaje evangelístico de Richards, consistente en una lección de doctrina cristiana fielmente ceñida a los pasajes bíblicos, y alternada con la interpretación, por parte del grupo, de una variedad de himnos tradicionales y cantos A Cappella.