Sincerely Yours, The Ink Spots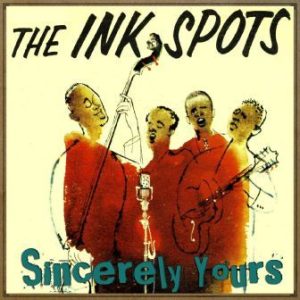 Add to favorites
Title: Sincerely Yours
Artist: The Ink Spots
Country: USA
Date: 2012-06-28
The Ink Spots fue un grupo de música vocal afroamericano que ayudó a definir el género musical que daría lugar al rhythm & blues y al rock and roll, así como al subgénero du duá. Junto con Mills Brothers, otro grupo vocal negro de los años 1930 y 1940, consiguieron una gran aceptación por parte de la comunidad blanca de los Estados Unidos.
The Ink Spots se formó a principios de 1930 en Indianápolis, siendo sus miembros originales:
Orville "Hoppy" Jones (Chicago, 17 de febrero de 1902 – Nueva York, 18 de octubre de 1944): tocaba el bajo en la forma de contrabajo
Ivory "Deek" Watson (Mounds, 18 de julio de 1909 – Washington, DC 4 de noviembre de 1969): tenor, guitarra y trompeta.
Jerry Daniels (14 de diciembre de 1915 – Indianápolis, 7 de noviembre de 1995): tenor, guitarra y ukulele.
Charlie Fuqua (20 de octubre de 1910 – New Haven, 21 de diciembre de 1971): barítono y guitarra.
Como "Kyle and Charlie", Daniels y Fuqua habían formado en 1931 un dúo vocal con el que actuaban en los alrededores de Indianápolis. Por las mismas fechas, Watson Jones y formaban parte del cuarteto "The Four Riff Brothers", que aparecía regularmente en la estación de radio WLW de Cincinnati.
En 1933, ese grupo se disolvió, y Watson, Daniels y Fuqua se reunieron para formar un nuevo conjunto vocal e instrumental que inicialmente se llamó "King, Jack, and Jester". Siguieron apareciendo regularmente en la radio en Ohio, y se convirtió en un cuarteto cuando Jones se unió al grupo al año siguiente.
En julio de 1934 The Ink Spots aceptaron una reserva en el Teatro Apollo de Nueva York apoyando a Tiny Bradshaw. En ese momento cambiaron su nombre a "The 4 Ink Spots" a petición del orquestista Paul Whiteman con el fin de evitar confusión con su grupo vocal "The King's Jesters". Más tarde, en ese mismo año, The Ink Spots lograba un éxito internacional en su gira por el Reino Unido con la orquesta de Jack Hylton, apareciendo en la revista musical Melody Maker