Spotlight Songs, The Four Knights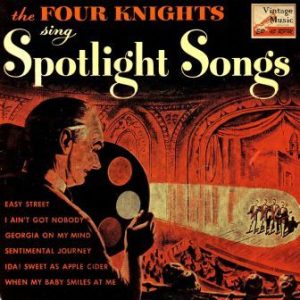 Add to favorites
Title: Spotlight Songs
Artist: The Four Knights
Country: USA
Date: 2011-02-02
The Four Knights se formó en 1943 con   Gene Alford (plomo tenor ), Oscar de Broadway ( contrabajo ), Clarence Dixon ( barítono ), y John Wallace (tenor, guitarra ). Esta formación se mantuvo igual durante gran parte de la carrera de la banda.
Su primer trabajo profesional fue en 1944 enla  WSDC  , una cadena de radio subsidiaria de la NBC con sede en Charlotte. Poco después s aparecen en el programa Carolina Hayride emitido por la CBS. Comenzarona grabar discos hasta que en 1945 deciden llamarse The Four Knights.
Ese año, en 1945, The Four Knights se traslada a Nueva York , donde aparecen en el programa de radio Arthur Godfrey 's . Firman con Decca Records en 1946, grabando  cuatro sencillos en los próximos dos años. Aparecieron en Red Skelton, un programa de radio la mayor parte de 1948. En 1949  lanzaron dos singles más.
En 1951  The Four Knights firman con Capitol Records, en la que permanecieron durante seis años grabando  mas de 40 singles . El lanzamiento de 1951 "I Love the Sunshine of Your Smile" alcanzó el 23 en  EE.UU.  Como la televisión se iba haciendo cada vez más popular empezaron a paracer en algunos programas de éxito conmo el Show de Ed Sullivan. Su hit de 1954 "I Get So Lonely When I Dream About You (Oh Baby Mine)" llegó al número 2 en las listas en los EE.UU. y fue su mayor éxito en Estados Unidos, a pesar de que tuvieron varios lanzamientos a principios de 1950 que llegarona ser populares.
Bajo el nombre de "Oh Baby Mine (I Get So Lonely)", la canción también llegó al número 5 en el UK S.  El grupo acompañado de Nat King Cole en sus éxitos "My Personal Possession" y "That's All There Is to That"
Genel. Alford tuvo que dejar el grupo a mediados de los 50 debido a su deterioron por  la epilepsia , y fue reemplazado por George Clifford  Holland (antes de los Delta Rhythm Boys ). Alford murió en 1960.