The Fabulous, Johnny Cash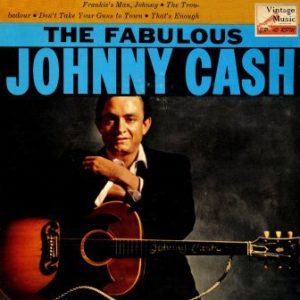 Add to favorites
Title: The Fabulous
Artist: Johnny Cash
Country: USA
Date: 2010-04-23
Johnny Cash, nacido John Ray Cash (26 de febrero de 1932 – 12 de septiembre de 2003) fue un cantautor estadounidense de country, gospel, rock and roll y rockabilly. Fue uno de los máximos representantes de la música country, aunque creó su propio subgénero musical.
Johnny Cash fue conocido por su profunda voz, por el característico sonido boom-chick-a-boom de su banda de acompañamiento, los Tennessee Three y, por vestir ropa oscura, lo que le valió el apodo de «El Hombre de Negro» («The Man in Black»). Empezaba todos sus conciertos con la sencilla frase: «Hola, soy Johnny Cash» («Hello, I'm Johnny Cash»).
Muchas de las canciones de Johnny Cash, como en «I walk the line», «Folsom Prison Blues», «Ring of Fire» o «Man in Black», tratan de temas como la pena, la culpa, tribulaciones morales y redención, una tendencia que se acentuó en la última etapa de su carrera. También compuso canciones humorísticas (como «One piece at a time», «The one on the right is on the left» o «A boy named Sue»), llenas de vitalidad («Get rhythm») o con otras temáticas típicas del country, como el ferrocarril («The Rock Island line»).
Johnny Cash vendió cerca de noventa millones de álbumes en sus casi cincuenta años de carrera. Es presentado habitualmente como uno de los músicos más importantes en la historia de la música country. Es uno de los tres únicos músicos que han sido admitidos en más de un «Salón de la Fama»: en el Salón de la Fama del Rock, del Country y de Compositores de Nashville.
Desde sus primeros años como pionero del rockabilly y el rock and roll en los años 50, en las décadas en las que fue un representante internacional de la música country y hasta su resurgimiento como icono del country alternativo en los años 90, Johnny Cash ha influenciado a incontables artistas y ha sido reverenciado por los más grandes músicos populares de la historia.