The Bible Tells Me So, Roy Rogers & Dale Evans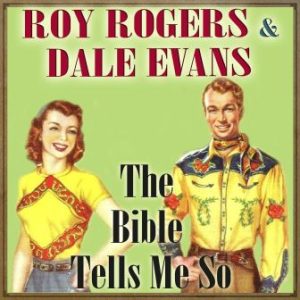 Add to favorites
Title: The Bible Tells Me So
Artist: Roy Rogers, Dale Evans
Country: USA
Date: 2014-02-15
Roy Rogers (5 de noviembre de 1911 – 6 de julio de 1998), fue un cantante y actor cowboy estadounidense.
Su verdadero nombre era Leonard Franklin Slye, y nació en Cincinnati, Ohio. Sus padres eran Andrew ("Andy") y Mattie (Womack) Slye. Insatisfecho con su trabajo y con la vida urbana, Andy Slye y su hermano construyeron una casa flotante, y en julio de 1912 la familia flotó por el río Ohio hacia Portsmouth, Ohio. Allí adquirieron unas tierras y vivieron unos años, hasta que en 1919 se mudaron a una granja cercana a Lucasville, Ohio. En la granja Roy Rogers  tuvo un caballo con el cual aprendió a cabalgar.
Tras completar los estudios de octavo grado, Roy Rogers  fue a la high school de McDermott, Ohio. Cuando tenía 17 años de edad su familia volvió a Cincinnati, donde su padre comenzó a trabajar en una fábrica de zapatos. Leonard dejó la high school y entró a trabajar con su padre en la fábrica, a la vez que acudía a una escuela nocturna. En esta escuela fue ridiculizado por quedarse dormido, y por ello abandonó definitivamente sus estudios.
Su hermana mayor, Mary, en 1929 vivía en Lawndale (California) con su marido. Por ello la familia decidió trasladarse a California a pasar unos meses antes de volver a Ohio. Allí le surgió a Roy Rogers  la posibilidad de viajar por California con el suegro de Marys, y el resto de la familia les siguió en la primavera de 1930.
Sin embargo, con la llegada de la Gran Depresión la familia se encontró sin trabajo y viviendo en campamentos de trabajadores En este ambiente Leonard cantaba y tocaba la guitarra. Viendo la cálida acogida que recibían sus interpretaciones decidió dedicarse a la música, viajando finalmente con su primo Stanley Slye a Los Ángeles y buscando trabajo como músicos llamados The Slye Brothers.
Roy Rogers  se casó en 1936 con Grace Arline Wilkins. En 1941 adoptaron una hija, Cheryl Darlene. En 1942 cambiaron legalmente sus nombres por los de Roy y Grace Arline Rogers. En 1942 tuvieron una hija, Linda Lou, y en 1946 otro hijo, Roy Jr. ("Dusty"). Sin embargo, Arline falleció a los pocos días como consecuencia de complicaciones del parto.
Tras cuatro años de poco éxito, en 1934 Roy Rogers  formó Sons of the Pioneers, un grupo de música cowboy. El grupo tuvo éxitos como las canciones "Cool Water" y "Tumbling Tumbleweeds".