The Band Wagon (O.S.T – 1953)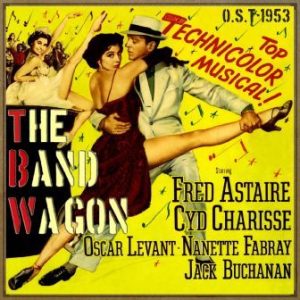 Label: The Band Wagon (O.S.T - 1953)
Release date: 2011-12-12
Melodías de Broadway 
The Band Wagon
1955
País: EE.UU.
Dirección: Vincente Minnelli
Intérpretes: Fred Astaire, Cyd Charisse, Oscar Levant, Nanette Fabray, Jack Buchanan, James Mitchell
Guión: Betty Comden, Adolph Green
Música: Adolph Deutsch
Fotografía: Harry Jackson
Género: Musical
Uno de los mejores musicales de todos los tiempos, producido por el gran Arthur Freed, responsable de otras maravillas del estilo Un americano en París, Cantando bajo la lluvia o La bella de Moscú. Tony Hunter (Fred Astaire) es una estrella del cine, algo desvaída y en horas bajas, que viaja hasta Nueva York para participar en un musical en Broadway. Allí le esperan los Marton, el matrimonio amigo que ha escrito la obra, quienes le presentan al director Jeffrey Cordova (Jack Buchanan).
Como coprotagonista femenina deciden contratar a la bella Gabrielle Gerard (bellísima Cyd Charisse), una joven bailarina de ballet. Pero Cordova, obsesionado con las grandes obras clásicas, enfoca la historia hacia una versión trágica de "Fausto", lo cual no agrada para nada al resto del equipo.
El film es una delicia y un modo excelente de comprender cómo funcionaban los montajes musicales del Broadway de la época. La música es un primor, con grandiosos temas escritos por Arthur Schwartz y Howard Dietz. La pareja Astaire-Charisse está inconmensurable y ofrece algunos de los mejores números de la historia, como el bellísimo baile en el Central Park "Dancing in the Dark" o el espectacular número final "En busca de la chica", con divertida atmósfera de cine negro. Algunas melodías pasaron a la historia, como la citada "Dancing in the Dark" o las pegadizas y divertidas "That´s Entertainment" y "A Shine on Your Shoes". También destaca el diseño de vestuario, obra de Mary Ann Nyberg, que fue nominada al Oscar, al igual que los guionistas y el compositor de la banda sonora, Adolph Deutsch.