Swootie Patootie, Tony Scott Quartet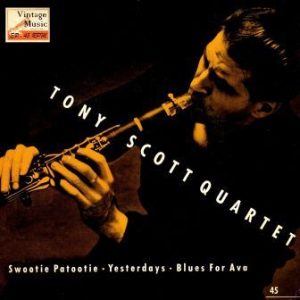 Add to favorites
Title: Swootie Patootie
Artist: Tony Scott Quartet
Country: USA
Date: 2010-09-17
Tony Scott, Anthony Joseph Sciacca había nacido un 17 de junio del año 1921 en la localidad de Morristown, Nueva Jersey. Sus padres, ambos músicos aficionados, emigraron a Estados Unidos desde Sicilia. Su padre tocaba la guitarra, y su madre, el violín. A los 12, Tony Scott tuvo su primer clarinete y en el año 1942 obtuvo su diploma de excelencia tras cursar estudios en la Juilliard School of Music.
Durante la Segunda Guerra Mundial estuvo destinado en Governors Island, en Nueva York, lo que  permitió a Tony Scott convertirse en un visitante asiduo de la mítica Calle 52. Todas las noches, Scott hacía la ronda por la calle del jazz visitando los clubes que le dieron fama: Famour Door, Onyx, 3 Deuces, Jimmy Ryan´s…, el clarinetista parecía estar dotado con el don de la ubicuidad: una nota aparecida en The New York Times daba cuenta del asombro del cronista tras recorrer los clubes de la calle y encontrarse con que, en todos ellos, "el clarinetista parece ser siempre el mismo".
Semejante experiencia le permitió a Tony Scott granjearse el respeto de los músicos más veteranos de raza negra, quienes apreciaban menos sus dotes como intérprete como sus dotes escribiendo, en un tiempo en que los buenos arreglistas no abundaban.