Stradivari Champagne, Alfonso D'Artega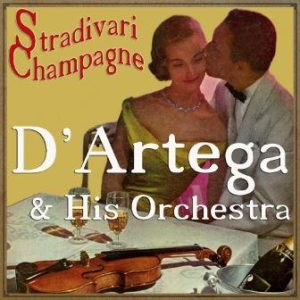 Add to favorites
Title: Stradivari Champagne
Artist: Alfonso D'Artega
Country: México
Date: 2013-11-25
Alfonso D'Artega (5 junio de 1907 a 20 enero de 1998), a menudo conocido simplemente como D'Artega , fue un compositor, director de orquesta, arreglista y actor. Su canción "En el azul de la noche", co-escrito con Tom Adair , fue un éxito número uno para la orquesta de Tommy Dorsey en 1943.
Alfonso D'Artega nació en Silao , Guanajuato , México . Su familia emigró a los EE.UU. en 1918. D'Artega estudió música y composición en el Conservatorio de Strassberger en St. Louis, Missouri con Boris Levenson , quien fue alumno de Nikolai Rimsky-Korsakov . Se convirtió en un director de orquesta conocido  y en 1946 inició en el Carnegie Hall "Pops" una serie de conciertos con integrantes de la Filarmónica de Nueva York .
En 1947 Alfonso D'Artega interpretó el papel de Tchaikovsky en la película el Carnegie Hall , la realización de la música de la película también fue cosa de él. Fue director invitado, entre otros, en  la Orquesta Sinfónica de Buffalo, la Orquesta Sinfónica de Miami, la Orquesta Sinfónica de Saint Louis y la NBC Symphony of the Air .
Alfonso D'Artega escribió más de 50 canciones. Tal vez su composición más reconocida en los EE.UU. es "La NBC Tema Chimes ".
D'Artega's creó la D'Artega's All-Girl Orchestra, una banda de veinte musicos femeninos. El grupo se formó en Nueva York en 1942 y apareció en la obra de Broadway llamada "Hair Pin Harmony".