All Star Jazz Concert, Steve Allen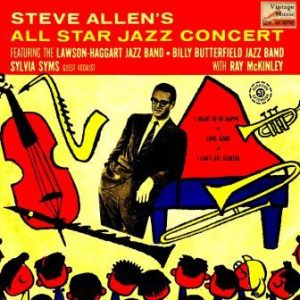 Add to favorites
Title: All Star Jazz Concert
Artist: Steve Allen
Country: USA
Date: 2010-11-01
Steve Allen, de nacimiento Stephen Valentine Patrick William Allen (26 de diciembre de 1921, Nueva York – 30 de octubre de 2000, Los Ángeles) fue un animador y compositor de letras estadounidense.
Steve Allen debutó como comediante en la radio durante los años 1940, antes de pasarse a la televisión en el horario nocturno, donde creó y presentó The Tonight Show (1953–1957) y The Steve Allen Show (1957–1960). Steve Allen fue anfitrión de otros tantos programas televisivos como Meeting of Minds, el cual dirigió desde 1977 hasta 1981.
Steve Allen compuso más de 3,000 canciones como Picnic e Impossible, apareciendo también en películas como The Benny Goodman Story de 1956 y La pareja chiflada de 1975. Murió de un infarto al corazón.