Standards… in the Latin Manner, Edmundo Ros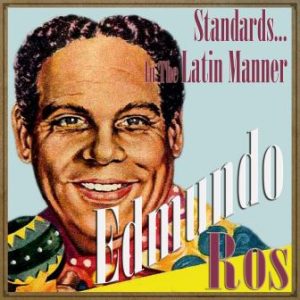 Label: Standards… in the Latin Manner
Release date: 2015-08-20
Edmundo Ros, Edmundo William Ros nació en Puerto España, Trinidad y Tobago, 7 de diciembre de 1910. Fue un músico, vocalista y director de orquesta, conocido internacionalmente por su fusión de la música latinoamericana tradicional y moderna.
En el mundo anglosajón, se le llama a veces con el sobrenombre de "King of Latin American Music" ("El rey de la Música Latinoamericana").
Su madre era una venezolana con ascendientes africanos; su padre era escocés. Sus padres se separaron siendo muy joven, por lo que Edmundo Ros se trasladó en 1927 con su madre a Caracas, Venezuela, ingresando después en la Escuela Militar, época en la que se le despertaron sus aficiones musicales al entrar a formar parte de una banda militar donde tocó el bombardino durante unos 4 años y más tarde, recibió una beca de música del gobierno. Edmundo Ros vivió en Caracas hasta 1937. En junio de 1937, se trasladó a Londres, Inglaterra para estudiar música clásica en la Academia Real de Música. Pronto volvió a tocar música popular.
En 1939, Edmundo Ros formó su propia banda de rumba. En 1941, se ganó el reconocimiento con la canción Los Hijos de Buda y tocaba regularmente en el elegante club Coconut Grove en Regent Street, que atraía a muchos miembros de la alta sociedad.
En 1946 Edmundo Ros poseía un club, una escuela de danza, una compañía discográfica y agencia de artistas. Su banda creció hasta los 16 músicos. Su álbum The Wedding Samba vendió tres millones de copias en 1949.
En 1951, Edmundo Ros compró el club Coconut Grove y lo rebautizó como "Edmundo Ros" Dinner and Supper Club. El club se hizo popular por su atmósfera y música; éste cerró en 1965. De 1964 a 1968 regentó el internacionalmente conocido y muy exclusivo Edmundo Ros Club en Regent Street (Londres).
En 1975 (a la edad de 65) se retira y se traslada a Jávea (España)
El 8 de enero de 1994, dio su último concierto público.
Edmundo Ros murió en Alicante el 21 de Octubre de 2011