Shake Me I Rattle, The Lennon Sisters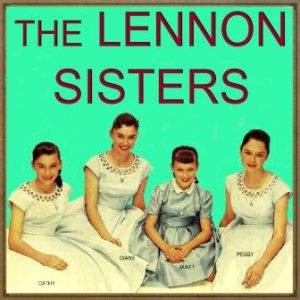 Label: Shake Me I Rattle, The Lennon Sisters
Release date: 2014-03-05
The Lennon Sisters es un grupo vocal estadounidense inicialmente formado por cuatro de las seis hermanas de una familia de 11 hermanos en donde 6 son chicas, y 5 son chicos: Dianne Bárbara (también conocido como Dee Dee) (n. 01 de diciembre 1939), Peggy (Margaret Anne) (b 8. abril de 1941), Kathy (Kathleen María) (n. 02 de agosto 1943), y Janet (Janet Elizabeth) (° 15 de junio de 1946). Todos los 11 niños Lennon nacieron en Los Angeles, California.
The Lennon Sisters hizo su debut en televisión en The Lawrence Welk en la Nochebuena del 24 de diciembre de 1955. Un compañero de clase de la escuela secundaria, Larry Welk, hijo de Lawrence Welk, las llevó hasta la casa de Welk, quien estaba en casa enfermo, y quedó tan impresionado que inmediatamente las contratá para su show.
The Lennon Sisters fueron uno de los pilares en el programa hasta que se fueron para comenzar una carrera propia en 1968. El cuarteto se convirtió en un trío 1960-1964; cuando la hermana mayor Dianne se casó, pero luego de varios años se reincorporó. Peggy cantaba la armonía alta, Kathy era bajo, y Janet y Dianne cantaban las armonías medias.
http://www.cancionesdelayer.com/