Ridin' High, Teresa Brewer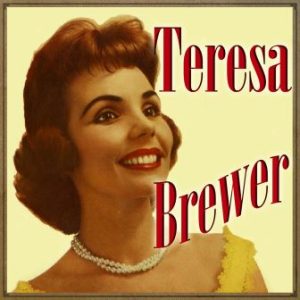 Label: Ridin' High
Release date: 2015-02-12
Teresa Brewer (7 de mayo de 1931 – 17 de octubre de 2007) fue una cantante de pop de nacionalidad estadounidense, cuyo estilo incorporaba elementos de country, jazz, rhythm and blues, y Novelty Songs. Fue una de las más prolíficas y populares cantantes de la década de 1950, grabando cerca de 600 canciones.
Su nombre de nacimiento era Theresa Breuer, y nació en Toledo (Ohio), criándose en esa misma ciudad. Su padre era inspector de la Libbey Owens Company (actual Pilkington Glass), y su madre un ama de casa. Ya con dos años de edad, Teresa Brewer fue llevada por su madre para pasar una prueba en el programa radiofónico "Uncle August's Kiddie Show", de la emisora de Toledo WSPD.
Teresa Brewer  actuaba a cambio de galletas y pasteles donados por el patrocinador. Aunque nunca tomó lecciones de canto, sí las tomó de claqué. Desde los cinco a los doce años de edad, cantó y bailó en la "Major Bowes Amateur Hour," entonces un popular show radiofónico itinerante. Su tía Mary viajó con ella hasta 1949, cuando Theresa se casó. La cantante tuvo un gran cariño a su tía, que vivió en la casa de Brewer hasta fallecer en 1993.
A los 12 años Teresa Brewer volvió a Toledo y dejó de viajar para poder llevar una vida escolar normal, aunque siguió actuando para la radio local. En enero de 1948, con 16 años de edad, Brewer ganó una competición local junto a otros tres concursantes, y pudo viajar a Nueva York para actuar en un programa de talentos, "Stairway to the Stars", en el que trabajaba Eddie Dowling.
Fue en esa época cuando cambió la escritura de su nombre, que pasó de Theresa Breuer a Teresa Brewer. Ganó varios programas de talentos y actuó en night clubs de Nueva York, entre ellos el afamado Latin Quarter.