Rhythm And Blues Witch Chuck Berry, Chuck Berry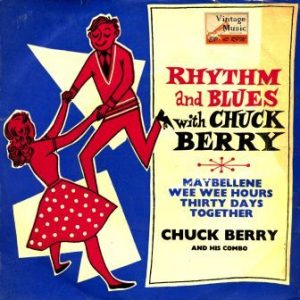 Add to favorites
Title: Rhythm And Blues Witch Chuck Berry
Artist: Chuck Berry
Country: USA
Date: 2009-09-22
Chuck Berry, Charles Edward Anderson "Chuck" Berry (Saint Louis, Misuri, 18 de octubre de 1926), mejor conocido como Chuck Berry; es uno de los más influyentes compositores, intérpretes y guitarristas de rock and roll de la historia.
Es una figura influyente y uno de los pioneros del rock and roll. En la década de los 50, Berry interpretó canciones como "Roll Over Beethoven", "Rock and Roll Music", "Route 66" de Bobby Troup, "Johnny B. Goode" y "Maybellene".
La revista Rolling Stone lo presenta como el intérprete n.º 5 de toda la historia en su lista "The Immortals" superado solo por The Beatles, Bob Dylan, Elvis Presley y The Rolling Stones. La revista Rolling Stone lo cita como el sexto mejor guitarrista de todos los tiempos.
Chuck Berry nació el 18 de octubre de 1926 en St. Louis, Missouri. Su madre, Martha, era profesora y su padre, Henry, contratista y diácono baptista. Es el tercero de seis hermanos. Chuck Berry estudió en la Simmons Grade School y la Summer High School, esta última la primera escuela de secundaria para afronorteamericanos del oeste de Mississipi, en la que también estudió Tina Turner.
Chuck Berry había estado tocando blues desde su adolescencia y a principios de 1953 gracias a su maestro, comienza a ganarse un sobresueldo tocando en la Sir John's Trio una banda que actuaba en un popular club de Saint Louis. Poco más tarde esta banda cambiaría su nombre al de "Chuck Berry Combo". En la ciudad sólo había otra banda que pudiera competir con la de Chuck Berry, la de Ike Turner, otro afamado guitarrista.