Polly Bergen, Polly Bergen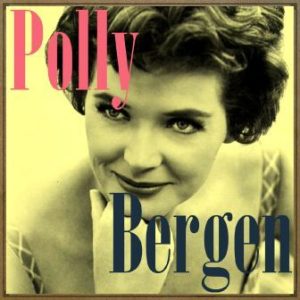 Label: Something Wonderful
Release date: 2012-11-08
Polly Bergen (Nellie Paulina Burgin , 14 de julio 1930) es una actriz, cantante, presentadora de televisión y empresaria norteamericana
Polly Bergen apareció en muchos papeles en el cine, sobre todo en la versión original de "El cabo del miedo" (1962) junto a Gregory Peck y Robert Mitchum. También junto a Dean Martin y Jerry Lewis en sus comedias en la década de 1950: At War with the Army, That's My Boy y The Stooge
Polly Bergen recibió un premio Emmy por su interpretación de la cantante, Helen Morgan, en el episodio The Helen Morgan Story de la serie de televisión de 1950 Playhouse 90.
Tras firmar con Columbia Records , disfrutó de una exitosa carrera discográfica en esa época. En la década de los 50 fue conocida como "La Chica Pepsi Cola ", después de haber hecho una serie de anuncios para ese producto.
En 1963 Polly Bergen co-protagonizó junto a Doris Day y James Garner la comedia cinematográfica, Move Over. Consiguió una nominación a los Emmy por su papel de Rhoda Henry, esposa del capitán "Pug" Henry (interpretado por Mitchum),  en la miniserie Vientos de guerra y su secuela, Recuerdos de guerra .
Polly Bergen nació en Knoxville , en el este de Tennessee , hija de Lucy ( nacida Lawhorn) y William Hugh Burgin, un ingeniero de la construcción. "Bill Bergen", como se le conocía más tarde, tenía talento cantando y apareció con su hija en varios episodios de la comedia / show de variedades , The Polly Bergen Show, que se emitió en la temporada televisiva 1957-1958.
En 1965, creó Polly Bergen Company, una línea de cosméticos. También puso en marcha líneas de marcas de joyas y zapatos, y escribió  tres libros sobre belleza.
Polly Bergen convierte en el judaísmo después de haberse casado con un agente de talentos de Hollywood Freddie Fields, con quien tuvo dos hijos adoptivos.
Cuando no está trabajando, Bergen vive en su casa de Connecticut .