Pillow Talk, Doris Day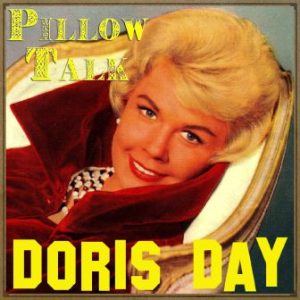 Label: Pillow Talk
Release date: 2011-10-27
Doris Day, Doris Mary Ann von Kappelhoff, (Evanston, Ohio, 3 de abril de 1922) es una actriz cantante y defensora de los derechos de los animales, estadounidense. Fue una de las actrices más prolíficas durante los años 50 y 60. Capaz de cantar, bailar e interpretar papeles tanto de comedia como dramáticos, fue una de las grandes estrellas de Hollywood durante mediados del siglo XX y está considerada como uno de los Mitos del Séptimo Arte
Doris Day nació con el nombre de Doris Mary Ann von Kappelhoff en Evanston, Ohio, hija de inmigrantes de origen germano. La menor de dos hijos, fue llamada "Doris" por la actriz del cine mudo Doris Kenyon. De religión católica, sus padres se divorciaron siendo ella una niña. Posteriormente ella adoptaría las creencias de la Ciencia Cristiana.
Ya desde pequeña Doris Day empezó a bailar ganando un contrato que le permitió, con tan sólo doce años, viajar a Hollywood, California con su compañero, Jerry Doherty. A los 16 años Doris sufrió un accidente automovilístico que le impidió cumplir sus sueños de ser bailarina, por lo que se concentró en el canto y en la actuación. Cantó con las big bands de Barney Rapp, Bob Crosby y Les Brown, antes de crear la suya propia a finales de los años 40. Su nombre profesional se lo sugirió Barney Rapp, quien la convenció de que "Kappelhoff" era un nombre difícil y le sugirió "Day" por la canción "Day after Day" que era parte de su repertorio. A ella nunca le ha gustado el nombre Doris Day, ya que piensa que suena a nombre de stripper; sin embargo, su nombre siempre ha estado asociado a una imagen de inocencia.
Junto a Brown, Doris Day consiguió doce éxitos musicales, entre ellos sus dos primeros números 1: "Sentimental Journey" y "My Dreams Are Getting Better All the Time". Ya en solitario, consiguió otros números 1 tales como "Secret Love".
Doris Day actuó en muchas películas, en muchas de la cuales cantaba. Comenzó su carrera cinematográfica en los musicales, comenzando en 1948 con la película "Romance on the High Seas"; en la audición para este papel tuvo que enfrentarse a más de cien actrices, algunas de ellas figuras de la época. A esta película le siguieron otros musicales como "Starlift", "By the Light of the Silvery Moon" o "Tea for Two" para la Warner. En 1953 interpretó "Calamity Jane" cuyo título en castellano fue "La liga de oro" y en España: Doris Day en el Oeste, película que ganó el Oscar a la mejor canción original por "Secret Love".