Sabroso y Caliente, Pete Terrace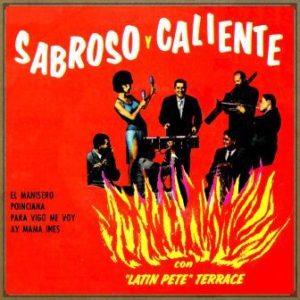 Add to favorites
Title: Sabroso Y Caliente
Artist: Pete Terrace
Country: USA
Date: 2012-09-21
Pete Terrace
Realmente es poco lo que se sabe de este gran artista. Sus trabajos son poco difundios, pero no por eso nada importantes, al contrario en la década de los 70 hasta hoy en dia su repertorio musical ha cobrado mucha vigencia , ya que fue un polifacético, desde boleros hasta mambos, pasando por boogaloos, soul, latin funk, pachangas y música experimental americana. El nombre real de este artista es Pedro Gutierrez, los americanos compañeros de lides orquestales le llamaron «Pete Terrace», el Terrace es abreviación de la pronunciación del apellido del painista y vibrafonista «guterrace».
Pete Terrace nació en Nueva York y es hijo de padres puertoriqueños. Trabajó con un grande de la música, el señor José Curbelo, también con Ralph Font, Pupi Campo y otro maestro de las teclas Noro Morales, inicialmente su despertar musical lo hizo con el sexteto Caney.
Pete Terrace representa la amalgama de la cada vez más frecuente educación clásica y la música popular – es egresado de nada más ni menos que la Julliard School of Music de Nueva York, clase de 1952. Para este tiempo trabajó con el nuevo rey de la batería del Jazz el señor Buddy Rich.
También son conocidos los trabajos con su gran amigo y compadre portorriqueño Joe Loco (José Estevez), con quien trabajara en la gran orquesta del señor Ramón Argüeso por el 1947-1948. Eran tiempos difíles pues son años de guerra y postguerra. Para el 1953, grabó con Loco en el vibráfono los temas «Locorama» y «Bei Mir Bist Du Shoen» y «Blues In The Night».
Hacia el 1956-57 Pete Terrace  graba para el sello Tico, dejando la banda de Joe Loco. Para el 1958-59 Pete junto con Charlie Palmieri se reunen formando un quinteto, de esa unión nace el trabajo «A Night In Mambo Jazzland» y ya para el 1960, después de varios años se juntan nuevamente Pete y Loco, grabando para el sello Fantasy Records el L.P. 3-203 «Going Loco», la nómina era la siguiente: piano, Joe Loco, vibráfono, Pete Terrace, bajo, Julio Andino Garcia, timbales, Freddie Aguilera y bongos, Bobby Flash.
Fuente: http://www.lastfm.es