Pete Kelly's, Ella Fitzgerald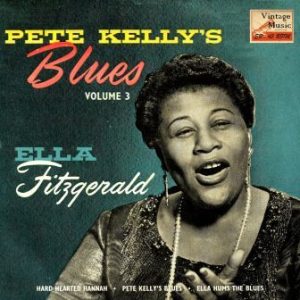 Label: Pete Kelly's
Release date: 2010-03-19
Ella Fitzgerald, Ella Jane Fitzgerald  (Newport News, 25 de abril de 1917 – Beverly Hills, 15 de junio de 1996), conocida como Ella Fitzgerald y apodada Lady Ella y The First Lady of Song (La primera dama de la canción), fue una cantante estadounidense de jazz.
No obstante esta condición básica de jazzista, el repertorio musical de Ella Fitzgerald es amplísimo e incluye swing, blues, bossa nova, samba, gospel, calypso, canciones navideñas, pop, etc.
Junto con Billie Holiday y Sarah Vaughan, Ella Fitzgerald está considerada como la cantante más importante e influyente de la historia del jazz (y, en general, de la canción melódica popular). Estaba dotada de una voz con un rango vocal de tres octavas, destacando su clara y precisa vocalización y su capacidad de improvisación, sobre todo en el scat, técnica que desarrolló en los años cuarenta y que anunció el surgimiento del bop.
Ella Fitzgerald ganó 13 Premios Grammy, y fue galardonada con la Medalla Nacional de las Artes y la Medalla Presidencial de la Libertad de Estados Unidos.
Nacida en Newport News, Virginia, EE. UU., Ella Fitzgerald creció en Yonkers, Nueva York, en una situación de pobreza permanente. Su padre, William Fitzgerald, conductor de tren, abandonó a su madre Temperance (Tempie) Fitzgerald, lavandera, cuando Ella Fitzgerald era aún muy pequeña. Las dos se trasladaron a Yonkers (Nueva York), junto con el novio de Tempie, Joseph Da Silva, con el que tendría una hija en 1923, Frances Fitzgerald.