Melodies Of Charles Chaplin, Norrie Paramor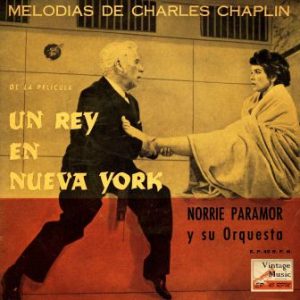 Add to favorites
Title: Melodies Of Charles Chaplin
Artist: Norrie Paramor And His Orchestra
Country: UK
Date: 2011-04-11
Norrie Paramor (15 de mayo 1914  – 9 de septiembre de 1979)  fue un  productor musical , compositor , arreglista y director de orquesta  británico.
Aunque  eltérmino de "productor" no estaba en  circulación habitual en el aquella época.
Norrie Paramor produjo singles de Cliff Richard , The Shadows , y Ifield Frank entre otros.Norrie Paramor grabó uno de los  álbumes más vendidos de Capitol Records,  "Capitol of the World".  In London in Love, contó con la voz de  de la soprano Patricia Clark, que se utilizó en muchos discos  posteriores. Esto se convirtió en su  sonido característico.Norrie Paramor también compuso la música para varias películas, incluyendo Serious Charge (1959), Expresso Bongo (1959), The Young Ones (1961), The Frightened City (1961) and The Fast Lady (1962).En 1968, fue el director musical del Festival de Eurovisión , celebrado en el Royal Albert Hall , el primero en ser transmitido en color. Él también dirigió a la orquesta en la canción que representaba al Reino Unido ,"Congratulations", interpretada por Cliff Richard .En 1977 Norrie Paramor y su orquesta grabó con The Shadows la canción "Volver a El Álamo".
Norrie Paramor murió de cáncer el 9 de septiembre de 1979.