Rock With Sedaka, Neil Sedaka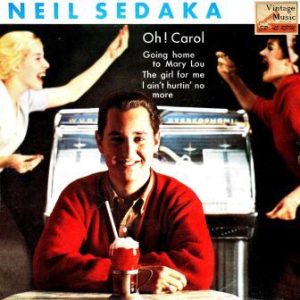 Add to favorites
Title: Rock With Sedaka
Artist: Neil Sedaka
Country: USA
Date: 2010-04-22
Neil Sedaka, 13 de marzo 1939, Brooklyn, Nueva York. Es un cantante Pop, pianista, y compositor frecuentemente asociado a The Brill Building. En asociación con Howard Greenfield escribió muchas canciones que fueron éxitos para él mismo y para otros artistas. La voz de Neil Sedaka esta clasificada con una tesitura Tenor.
Neil Sedaka nació de un padre inmigrante con raíces Judío- Sefardíes-túrcas y de una madre con ancestros Judío- askenazíes. Comenzó a interpretar el piano durante la juventud en una estación de radio de Música clásica mientras estudiaba en la Juilliard School. También empezó a experimentar con el Doo wop y la música de Rock and Roll, cantando e interpretando una vieja versión de The Tokens. Su composición «Stupid Cupid» fue un éxito de 1958 en la voz de Connie Francis, y Sedaka fue contratado por la RCA Records como intérprete solista. Una cadena de éxitos le seguiría, al finalizar 1963.
Los bien conocidos éxitos del Billboard Hot 100 -de sus inicios como cantante- son los temas «Oh! Carol» , «Calendar Girl» -La chica del calendario-, «Happy Birthday Sweet Sixteen»-Dulces dieciséis-y «Breaking Up Is Hard to Do»-Es difícil decir adios-«Oh! Carol» es una canción que hace referencia a la novia de Sedaka de aquel entonces, su compañera de clase, la compositora Carole King, ella pronto le correspondió con su canción respuesta que denomino «Oh! Neil», la cual hace referencia al tema de Neil Sedaka y a su nombre. Existe un vídeo en formato 16mm llamado Scopitone para «Calendar Girl»
Entre 1960 y 1962, Neil Sedaka tuvo 8 temas dentro del Top 40 pero se vio entre los intérpretes que vieron sus carreras asediadas por la Invasión británica y otros cambios de rumbo en la industria musical. Sus sencillos comenzaron a declinar en las listas de popularidad, antes de desaparecer por completo.