My Restless Heart, Gene Austin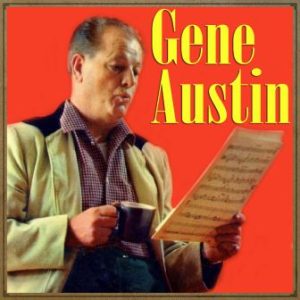 Label: My Restless Heart
Release date: 2014-02-15
Gene Austin (24 junio 1900 – 24 enero 1972) cantante y compositor, cuyo nombre real era  Eugenio Lucas, nació el 24 de junio de 1900, en Gainesville, Texas.
Sus padres se divorciaron y su madre se casó con Jim Austin, un herrero. Eugene tomó el apellido de su padrastro. Se crió en pequeñas ciudades en Louisiana alistándose al ejército de Estados Unidos cuando tenía quince años. Durante su estancia en el ejercito, participó en la expedición enviada a capturar Francisco (Pancho) Villa, en 1916, y sirvió en Francia durante la Primera Guerra Mundial.
Gene Austin estudió odontología y  derecho en Baltimore.
Aunque compuso más de 100 canciones, nunca Austin aprendió a leer música. Fue uno de los cantantes más originales, y su voz de tenor era bien conocida en los primeros días de la radio y en los gramófonos de manivela de los años 20 y 30. Sus grabaciones de RCA Victor vendieron  más de 86 millones de copias, una de las grabaciones, "My Blue Heaven" (grabado in1927), vendió más de 12 millones de discos.
Gene Austin  comenzó su carrera discográfica en 1923, y al año siguiente, Jimmy McHugh, produjo su primer éxito: "When My Sugar Walks Down the Street", con letra de Austin y arreglos de Irving. Otras canciones de éxito de  Austin  fueron "My Melancholy Baby", "Girl of My Dreams", "Ramona", "Carolina Moon" y "Sleepy Time Gal". Sus composiciones incluyen "How Come You Do Me Like You Do?" y"Lonesome Road.".
En la década de los 30 Gene Austin  debutó en el cine,  Sadie McKee (1934) y Gift of Gab (1934). A través de los años, también fue presentado en numerosos programas de radio.
Gene Austin   era un artista de clubes nocturnos en la década de los 30, pero luego su carrera fue decayendo hasta  que su vida fuese dramatizada en un especial de televisión a finales de los 50, reanudando sus grabaciones. Siguió escribiendo canciones hasta los últimos diez meses de su vida, cuando se le desarrolló un cáncer de pulmón.