My Blue Heaven, The Dukes Of Dixieland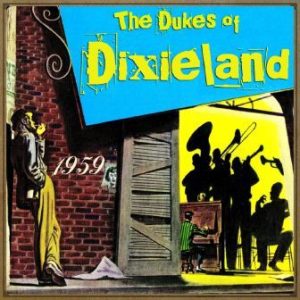 Label: My Blue Heaven
Release date: 2012-10-01
The Dukes of Dixieland fue una banda de jazz tradicional nacida al abrigo del revival del estilo dixieland de los años 1940.
Formada por los hermanos Frank (1932-1974) y Fred Assunto (1929-1966), trompeta y trombón, respectivamente, incluía también, en su primera formación, a su padre, Jack Assunto, banjo; Jack Maheu, clarinete; Stanley Mendelsohn, piano; Tommy Rundell, batería; y Barney Mallon, tuba y contrabajo. Después, estuvieron en la banda otros músicos, como Jerry Fuller, Jim Hall, Herb Ellis, Pete Fountain o Gene Schroeder.
The Dukes of Dixieland consiguió gran proyección tras permanecer cuarenta y cuatro meses continuados tocando en el Famous Door de Nueva Orleans, su ciudad natal. Grabaron diversos discos con artistas como Louis Armstrong, entre 1948 y 1959, logrando gran popularidad con su jazz estereotipado pero vibrante. En 1957 se publicó un álbum suyo como primer disco estereofónico de la historia, por el sello Audio Fidelity Records.
The Dukes of Dixieland desaparecieron a finales de los años 60, a consecuencia del fallecimiento del mayor de los hermanos Assunto. Hoy en día, subsiste una banda con idéntico nombre, fundada en 1975 por Connie Jones y liderada actualmente por el también trompetista Kevin Clarke.