Moby Dick (Original Soundtrack – 1956)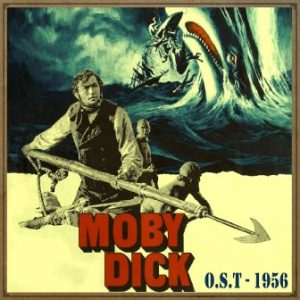 Add to favorites
Title: Moby Dick (Original Soundtrack - 1956)
Artist: Philip Sainton
Country: USA
Date: 2015-03-12
Moby Dick 1956
Moby Dick es una película británica de 1956, dirigida por John Huston y protagonizada por Gregory Peck, Richard Basehart, Leo Genn, James Robertson Justice, Orson Welles, Harry Andrews y Bernard Miles en los papeles principales. El guion, basado en la novela Moby-Dick, de Herman Melville, fue escrito por Ray Bradbury y John Huston. Los exteriores fueron rodados en aguas de Gran Canaria y de la portuguesa isla de Madeira donde se filmaron escenas reales de la caza de ballenas, lideradas por los balleneros madeirenses.
John Huston recibió premios como Mejor director del New York Film Critics Circle Awards, del National Board of Review (Estados Unidos), y del Sindacato Nazionale Giornalisti Cinematografici Italiani (Italia).Richard Basehart recibió un premio del National Board of Review, como mejor actor de reparto.
Argumento
El capitán Ahab (Gregory Peck) está al mando de un barco ballenero, el Pequod, un bergantín cuyos pescantes son de hueso de ballena. Su vida transcurre en el entrepuente y solo sale por las noches. Para la mayoría de la tripulación es solo un fantasma con una pierna de palo (para otros, de marfil), cuyos pasos retumban en la cubierta.
El navío sale a la caza de ballenas, pero al cabo de unos días, los nuevos tripulantes se enteran de que Ahab tiene una maníaca obsesión, que es matar una ballena blanca que hace años le arrancó una pierna. La ballena blanca es una del tipo cachalote asesino.
Por eso Ahab tiene una pierna de palo, con la que golpea fuertemente la cubierta del barco al andar. Su odio contra la ballena es tan grande que está dispuesto a sacrificar su vida, la de sus hombres y el barco entero para matar a Moby Dick. Sin embargo, el carisma y la fuerza de sus sentimientos es tan poderosa que impregna a la tripulación con sus convicciones.
Cuando se entera de que la ballena podría estar a su alcance, hace los cambios necesarios para perseguirle y darle muerte.