Me And Juliet (1953)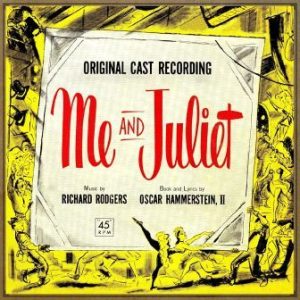 Add to favorites
Title: Me and Juliet
Artist: Varios Artistas
Country: USA
Date: 2011-11-11
Me And Julliet
(Richard Rodgers & Oscar Hammerstein)
Richard Charles Rodgers (28 de junio de 1902, Nueva York – 30 de diciembre de 1979, Nueva York) fue un compositor estadounidense.
Estudió en la Universidad Columbia donde conoció a su próximo compañero Lorenz Hart y después estudió composición en el Instituto de Arte Musical. Su primer éxito junto a Hart fue una revista títulada The Garrick Gaieties de 1925.
Su comedia On Your Toes de 1936 con el ballet de jazz Slaughter on Tenth Avenue, estableció formalmente la danza como un componente fijo de la comedia musical.
Rodgers y Hart trabajaron juntos en otras obras como Babes in Arms de 1937, The Boys from Syracuse de 1938 y Pal Joey de 1940. Después de la muerte de Hart, Rodgers colaboró con el libretista Oscar Hammerstein II, entre otras, en la obra The sound of music que se llevó a la gran pantalla con Julie Andrews como protagonista. Su musical Oklahoma!, ganador del premio Pulitzer en 1943, gozó de una puesta de escena sin precedentes en Broadway, con 2.248 presentaciones.
---
Oscar Hammerstein II, (12 de julio de 1895 – † 23 de agosto de 1960) fue un libretista estadounidense, que nació y murió en Nueva York.
Fue sobrino de Oscar Hammerstein I y dueño del Manhattan Opera House. Su ascenso a la fama se dio con una serie de comedias musicales y operetas entre las que se encuentran: