Marion Marlowe, Marion Marlowe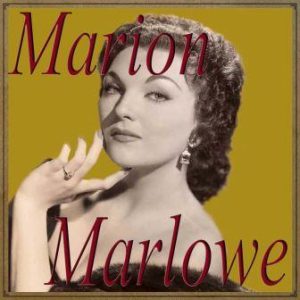 Add to favorites
Title: Marion Marlowe
Artist: Marion Marlowe
Country: USA
Date: 2016-04-15
Marion Marlowe (7 de marzo 1929  – 24 de marzo de 2012)  fue una cantante y actriz estadounidense. Ella es mejor conocida por sus grabaciones de "The Man in the Raincoat" y "Heartbeat".
Marion Marlowe trabajó con Frank Parker ("Moonlight and Roses") y estaba casada con el productor de televisión, Larry Puck.
Marion Marlowe nació como Marion Townsend en San Louis, Missouri ,  y su padre murió varios años después. En ese momento Marlow y su madre (una bailarina que había bailado con la Metropolitan Opera) fueron a vivir con sus abuelos.
Su primera actuación pública llegó a los 5 años cuando cantó el Ave María en el templo Moolah en St. Louis. Llegó a tener su propio programa de radio semanal de un cuarto de hora desde los 9 años hasta que cumplió 13.
De acuerdo con libro de 1975 de Richard Lamparksi Qué fue de…? , Marion Marlowe comenzó a tomar clases de canto cuando tenía 12 años y estudió en Londres en el Royal Conservatory dirigido por Sir Thomas Beecham . Más tarde, ella compartió habitación con Marilyn Monroe en el Studio club de Hollywood.
Marion Marlowe fue más conocida por sus actuaciones en televisión en la serie Arthur Godfrey and His Friends, de 1950 a 1955, en la que cantó a dúo con Frank Parker.
En abril de 1955, fue despedida por Arthur Godfrey de su espectáculo junto con Haleloke y los Marineros.  Después firmó por Ed Sullivan para hacer seis apariciones. Su contrato con Sullivan le proporcionó $ 18.000 para las seis apariciones, en comparación con $ 1,500 por semana durante seis espectáculos con Godfrey.
Marion Marlowe grabó para CBS Records a mediados de la década de 1950, y consiguió el éxito con solo con "The Man in the Raincoat", que alcanzó el # 14 en el Billboard Hot 100 en 1955.
El 6 de mayo de 1955,  Marion Marlowe se casó con el productor de televisión Larry Puck, que también había sido despedido por Godfrey.
Marlowe siguió una carrera como actriz de teatro, más notablemente como la baronesa, Elsa Schraeder, en The Sound of Music, de 1959 a 1963.
Marlowe murió de causas naturales en Tucson, Arizona , el 24 de marzo de 2012, a la edad de 83 años.