Love, Andy Williams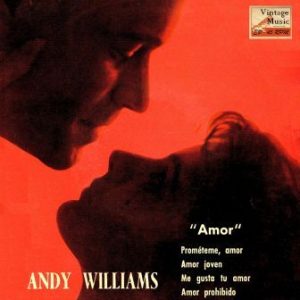 Label: Love
Release date: 2010-12-02
Andy Williams, Howard Andrew "Andy" Williams (3 de diciembre de 1927,USA – 25 de septiembre de 2012, USA)
Andy Williams fue un cantante estadounidense que grabó dieciocho álbumes de oro y tres de platino. Es conocido por el tema «Moon River» de 1962.
Andy Williams nació en Wall Lake, Iowa, hijo de Jay Emerson y Florencia (de soltera Finley) Williams. Su primera presentación musical fue en un coro de niños de una iglesia presbiteriana. Williams y sus tres hermanos mayores, Bob, Don y Dick formaron el cuarteto Williams Brothers a finales de 1938, y se presentaron en emisoras de radio del medio oeste, en primer lugar en WHO en Des Moines, Iowa, y más tarde en WLS de Chicago y WLW en Cincinnati.
LA carrera en solitario de Andy Williams comenzó en 1953. Durante la década de 1960, Williams se convirtió en uno de los vocalistas más populares en el país.
Entre los álbumes de éxito de Andy Williams en este período se encuentran Moon River, Days of Wine and Roses (número uno durante 16 semanas, a mediados de 1963), The Andy Williams Christmas Album, Dear Heart, The Shadow of Your Smile, Love, Andy, Get Together with Andy Williams y Love Story. Estas grabaciones, además de su afinidad natural para la música de la década de 1960 y principios de 1970, se combinaron para hacer de él uno de los principales cantantes de música ligera de la época. En el Reino Unido, Andy Williams alcanzó las primeras posiciones de las lista de éxitos hasta 1978. Los álbumes Can't Help Falling In Love (1970), Andy Williams Show (1970), Home Lovin Man ( 1971), Solitaire (1973), The Way We Were (1974) y Reflections (1978) llegaron a los primeras diez casillas de popularidad.