La Sonora Radio Latina Vol. 2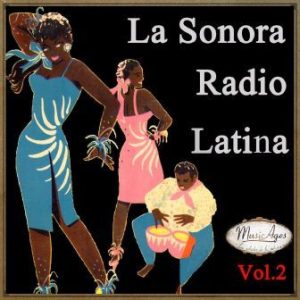 Add to favorites
Title: La Sonora Radio Latina No. 2
Artist: Varios Artistas
Date: 2010-03-25
Songs:
02 Guajira Cubana


Artist: Sexteto La Playa

Songwriter: S. Curbelo

03 Vamos Pa la Rumba


Artist: Obdulio Conde Y Su Orquesta

Songwriter: Pepe Delgado

04 Oye Negra, Conga


Artist: Panchito Cui Cui Y Su Orquesta Típica

Songwriter: Noro Morales

05 El Negrito del Batey, Merengue


Artist: Ramón Márquez Y Su Orquesta, Flavio Salamanca

Songwriter: Santiago Terry

06 Las Mellizas, Merengue


Artist: Raul Del Castillo Y Su Orquesta

Songwriter: Mario De Jesús

07 Tiririri, Merengue


Artist: Napoleón Zayas, Su Orquesta

Songwriter: Félix López

08 Ajiaco Caliente, Guaracha
Artist: Celio González, La Sonora Matancera

Songwriter: Traditional

10 Guiñando el Ojo, Merecumbé


Artist: Leopoldo Francés, Bernard Hilda

Songwriter: J. A. Michel

11 Pedacito por Pedacito


Artist: Trio Avileño

Songwriter: Ramón Salas

12 Canto A Caracas, "Mamá Ines", Son Montuno
Artist: Pio Leyva

Songwriter: Eliseo Grenet

13 Alo! Quien Ñama
Artist: Mon Rivera, Moncho Leña Y Los Ases Del Ritmo

Songwriter: R. Rivera Alers

16 El Hombre Es Como un Auto, Guaracha
Artist: Memo Salamanca, Raquel Domenech

Songwriter: Clavel

17 El Tunel, Cha, Cha, Cha
Artist: Tito Rodríguez

Songwriter: E. Jorrín, A. Lindo

18 Oyeme Mama!, Cha Cha Cha
Artist:
Warning: mysqli_num_fields() expects parameter 1 to be mysqli_result, boolean given in /home/vintagefm/public_html/wp-includes/wp-db.php on line 3283
Nereida Y Su "Ensueño Tropical", Zoila González

Songwriter: F. Rivero

19 Espérame en el Cielo
Artist: Joe Valle

Songwriter: López Vidal

20 Mujeres No Lloren


Artist: Orquesta Cubana, Enrique Bonne, Matías Tabio

Songwriter: Enrique Bonne

21 Los Bomberos, Cha Cha Cha


Artist: Conjunto Los Cariñosos

Songwriter: R. Sosa

22 Pensamiento


Artist: Teofilito, Orquesta Ritmo Oriental

Songwriter: Rafael Gómez

23 Cumaco de San Juan


Artist: La Sonora Latina, A. Suarez, Meche Lafayette

Songwriter: Traditional

24 Guarapo, Cha Cha Cha


Artist: Arturo Núñez

Songwriter: Florencio Hernández

26 El Peletero


Artist: Ritmos Cubanos, Sonny Rossy

Songwriter: Sonny Rossi
Afro-Cuban La Sonora Radio Latina Latin Music Son
Favorites
Your favorites will be here.
Apple
Spotify
Genre